Tips For Writing A Remarkable Pharmacy Personal Statement
By Laura Brown on 12th August 2021
Becoming a pharmacologist is no joke; in fact, it is one of the most aspiring careers out there. While a budding pharmacologist may be thinking about how to get a scholarship. There is no doubt that your academic life starts only with good grades, as they are the key to your success. However, a pharmacy personal statement is required at all levels, including the likes of BTEC, A-Level, IB, and even PhD. The higher qualified you get, naturally the more difficult it gets to compose the perfect statement.
One way to go about is to go through several pharmacy personal statement examples that you can find online. This will offer you a basic idea regarding how different applicants try out different approaches to get accepted by reputed educational institutions.
However, if you really want to master writing a pharmacy personal statement, then writing it yourself is the best course of action that you can take. This is because it will help you internalise all of your unique perspectives and deliver distinctive quality.
Why Is A Pharmacy Personal Statement Important?
You might be wondering as to why should there be a need to look at pharmacy personal statement examples in the first place?
The answer is very simple because not all applicants get approved. And those who get admitted offer distinguished value to set themselves apart. It is not like a walk in the park. In fact, there is tremendous competition. And only the best get what they truly desire. This is exactly why you should not treat writing a pharmacy personal statement lightly.
According to a recent study by Statista.com, there were around 66.8% of employed and self-employed pharmacists in the United Kingdom. However, the number of pharmacists in employment in the UK has fluctuated since 2010.
Moreover, while the number of prescriptions has slightly decreased in the last three years, there were over one billion prescription items dispensed from pharmacies in England. While the UK provides approximately 3300 undergraduate pharmacy places per year, for a population of 60 million, it is considered less. And the number may increase in the future.
Tips And Guidelines From The Best Pharmacy Personal Statement Examples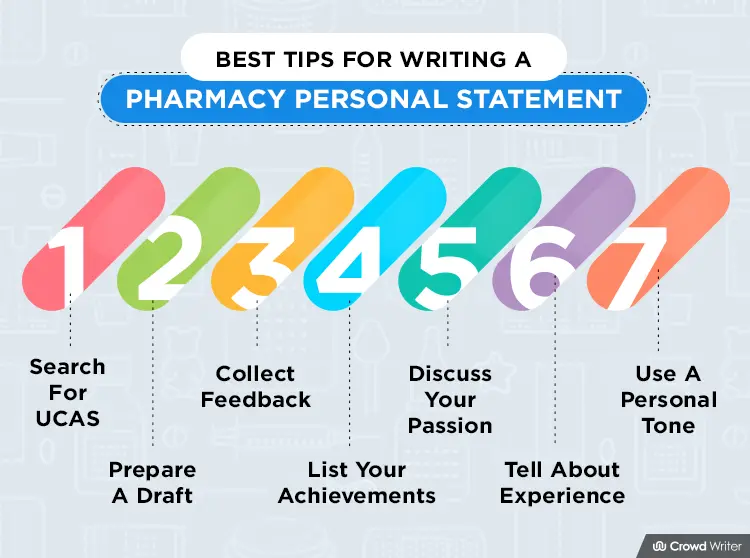 I hope by now you would be interested in knowing what should a personal statement include considering the fact that the aforementioned statistics show a promising prospect of the future. Don't worry. We have gone through various examples to bring forward some of the best tips that will instantly help you master the art of writing the perfect pharmacy personal statement. Here is what you need to do.
Learn About UCAS
First and foremost, you should know about UCAS (Universities and Colleges Admissions Service). It is a UK-based organisation that operates the application process for British universities. It offers you great advice for students considering higher education and their applications.
Plan A Draft First
At Crowd Writer, all students are encouraged to plan and brainstorm for ideas before initiating the writing process. This can help you create a robust outline that you can follow and stay focused on your writing throughout the process.
Ask For Feedback
Once you have created a reasonable draft for your pharmacy personal statement, consider sharing the sample with your friends and teachers to get additional inspiration. This will help you to develop a self-critic for your own written work.
Highlight Your Achievements
When it comes to writing your pharmacy personal statement, it is no time to remain modest. You need to deliver yourself as a champion in the eyes of your evaluators. So don't downplay any of your relevant achievements.
Demonstrate Your Passion
While you don't need to list down your grades on the pharmacy personal statement, as they will be on the application form, you can add details that matter. This can include your thirst for greater education and future goals and ambitions.
Include Relevant Work Experience
Even if there is any part-time job that is remotely related to your field of study, be sure to mention it. An example can be a clerk in a hospital ward. Make sure that you provide details about your work duties and responsibilities diligently.
Focus On Core Subjects
If you are applying for specialisation such as an MSc in pharmacology, then make sure that you discuss specific courses and their aspects that interest you the most. You can also show your interest in them by sharing your information sources regarding the subject, like renowned books, experts, or academic journals that you follow.
Share Your Personal Story
Students at Crowd Writer UK are always encouraged to share their personal life lessons and events in their writing that made them a better person. You should consider conveying to your readers what led you to pursue pharmacy and how you became hooked.
Show Your Commitment
People are always on the lookout to recruit or give a chance to those who are very dedicated to their cause. If you have what it takes to face upcoming challenges, then display all the qualities of a sincerely interested person in your writing to leave a lasting impact on your judges.
Answer The Important Questions
Make sure that your readers/audiences/evaluators understand why you choose the pharmacy. What are your inspirations, your role models, skills that you have acquired? And why do you stand out from other candidates?
Proofread And Edit Multiple Times
Most importantly, once you have completed the writing phase, it's time to finalise your statement. Proofread the entire statement multiple times. To correct errors, mistakes, or blunders in the structure. That missed your sight the first couple of times.
Final Word
In case the aforementioned tips are too hard for you to try out yourself, we are always here to provide you with the best personal statement help that you can get at affordable charges. Although it is very much recommended that. You practice writing your own statement as eventually, it will help you to improve your skills. Nevertheless, always give your best shot but stay realistic. If you don't succeed at first, don't upset and try another time. Cheers, and all the best for your future endeavours!