How To Write A Reflective Essay In 10 Simple Steps
By Laura Brown on 25th July 2021
A lot of students these days may know how to use Turnitin. However, when it comes to writing an exquisite piece of written material, it gets too challenging for them. This is where they need support, and if you can master the art of knowing how to write a reflective essay, you might end up getting some of the best results you have scored so far. This is because if you know about writing a reflective essay, your overall writing becomes all the more impressive.
Plus, if you don't know how to start a reflective essay, the chances are that you might fumble and stumble in other forms of writing as well. This is because a reflective essay is almost a staple when it comes to higher education written tasks that are allocated frequently by course instructors and mentors. It allows them to see how well their students have progressed over time and evaluate their recent developments.
Why You Should Know How To Write A Reflective Essay
The purpose behind this form of writing is to provide the author with not only a platform to recount a particular life experience but also explore how it changed over time. Writing a reflective essay showcases your personal progress as a smart and intelligent individual that has acquired the necessary skills to face the world as it is. Plus, you should know how to start a reflective essay to grasp the attention of your audience and influence them.
According to a recent study by National Literacy Trust UK, around 16.4% of adults in England or around 7.1 million people can be described as having poor literacy skills. Furthermore, adults with poor literacy skills will eventually find themselves being locked out of the job market as well as unable to support their child's learning. In Scotland, the case scenario is even worse, where 1 in 4 adults or 26.7% of the people experience challenges due to a lack of literacy skills.
Simple Steps For Writing A Reflective Essay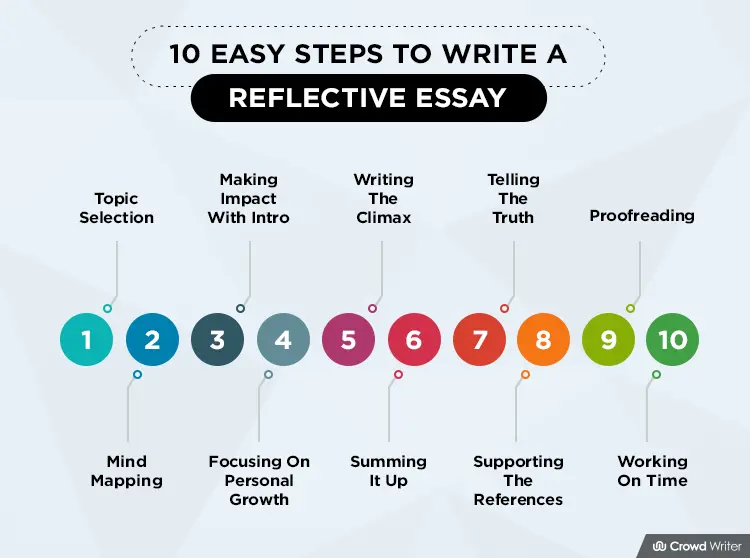 While writing a conclusion for an essay is also extremely important. However, we cannot negate the fact that writing skills, in general, are extremely important for every student nowadays. Those who want to pursue a decent career in the future must invest time and effort to develop their writing skills as it is one of the most wanted abilities in the current and future job markets. Here are some viable tips that can help you deliver the perfect reflective essay for your academia.
Event Becomes The Topic
When learning how to write a reflective essay, you must focus on an event. Make sure it is a relevant event that has somehow affected you as a person and brought a change in your life. Hence it should help you develop a thesis that serves as the focal point.
Make A Mind Map
At Crowd Writer, students are always advised to create a robust outline before they initiate the writing process. This helps them to brainstorm for the right ideas and notions as well as keep their writing focused on a dedicated topic.
Open With A Strong Introduction
The first thing that you should learn about how to write a reflective essay is always the opening paragraph. This is of utmost importance as it has to be enduring and immediately grasp the attention of the readers; otherwise, they will lose interest.
Masterfully Deliver Conclusion
It is important to realise that the ending of your essay has to be impactful; otherwise, you wouldn't be able to create a strong impression on your audience or readers. Be precise and to the point when summarising your thoughts.
Focus On Personal Growth
The entire emphasis on how to write a reflective essay is to show your readers how a particular event or life lesson improved you as a person. You have to clearly highlight this aspect to show the audience your progress and current personal development.
Don't Forget To Highlight The Turning Point
The greatest impact that you will leave on the reader is how a certain life event or lesson taught you to become a better person. This is the core of your entire essay, and you should make it stand out from the rest of the text.
Proofread And Edit Your Work
This is an absolute must because even if you know how to write a reflective essay but miss out on finalising your written work, it might count as a failure. So proofread and remove all spelling errors and grammatical mistakes from your essay before submission.
Honesty Is The Best Policy
Writing becomes truly motivating and invigorating when you relate it to your personal life. In such cases, an honest opinion that can be quite personal only makes the written work more trustworthy as you are not trying to hide your true feelings.
Support Your Arguments
We encourage students at Crowd Writer UK to present justifications for their statements and arguments in written work. This can include scientific evidence, factual information, statistics, or authentic reference from credible sources.
Keep An Eye On The Deadline
Lastly, you should also keep a check on your due dates and deadlines. Even if you deliver a stupendous piece of work. But submit it late. Then your teacher or professor might use negative marking against your desire.
Final Word
In case you find all the aforementioned tips and guidelines too worrisome to follow. Let us remind you that there is always an option. To hire professional essay writing services to get the job done. By going through their work, the quality of brewing words into sentences, and overall methodology, can help you to develop your own style of writing. Nevertheless, I recommend that you practice writing short essays on a regular basis as it will greatly improve your skill. Cheers, and all the best for your future endeavours!