6 Tips On How To Write A Conclusion For An Essay
By Laura Brown on 27th July 2020
According to research, students encounter numerous difficulties while composing several components of the essays, which impedes their academic success. While everyone talks about how to write an introduction, it is equally important to discuss how to conclude a literature review in an amazing way. Why? Because one of the most challenging part of any assignment is how to write a good conclusion for an essay.
Yes, conclusions are considered as the hardest parts of an essay to write. It is the technique of rounding off your essay, in which the writer should try to leave the reader for the best possible impression of your work.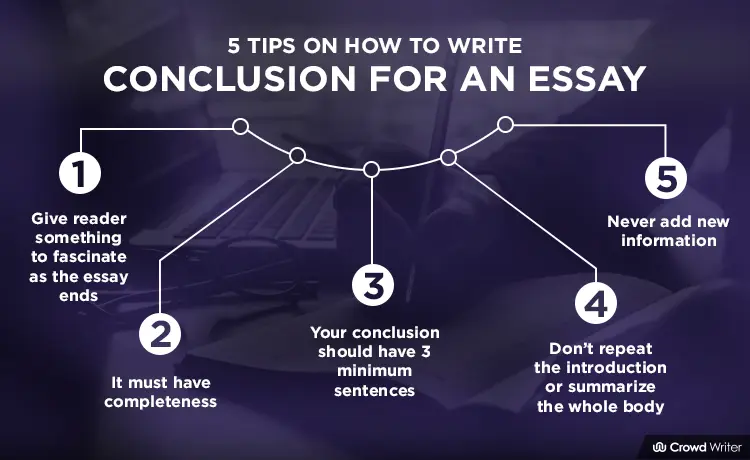 What You Need To Know?
Before writing the conclusion, you need to know the nitty-gritty of how to write a conclusion for an essay. The most general idea is that it is the last paragraph of your essay summarising the arguments; it helps the reader in understanding what your essay is saying and why it is essential for them.
6 Tips To Write A Compelling Conclusion For An Essay
Check the five actionable tips to write an appealing conclusion for your essays:
1) Give Reader Something To Fascinate In The End
Creating a fascinating ending helps you get good grades. Your essay can only stand out if it leaves your reader to think over something as they end reading. Writing catchy phrases like, 'The world has a lot to learn about this coronavirus pandemic' can leave an impact on reader's mind.
It is not merely the summarising of your essay; it is a part where you strengthen the hook which you created in the introduction.
2) It Must Have Completeness
The essay is the paper in which you are communicating with your reader, so it must have the communication cycle completed, which includes completeness. Remember if your essay's conclusion isn't having the integrity of thought, then it wouldn't fascinate your reader, nor it will leave an impression. Completeness should be your first thought whenever you decide to compose an essay.
3) Ask Experts How To Write A Conclusion For An Essay
Another answer to your question about how to write a good conclusion for an essay is that you should take help from industry experts. There are so many online platforms that offer essay help to students, and Crowd Writer is one of them.
It has a team of talented and experienced professionals who offer great write-ups with perfect conclusions. Your end must contain the restatement, summary of sub-points, and the final good impression.
4) How To Write A Good Conclusion For An Essay In Less Time
Usually students pay less attention to composing a good conclusion as they are highly focused how to choose a dissertation topic. You must be careful. Pick a place with no distractions and read out your paper thoroughly in one go.
Note down the purpose and main findings of your essay and rephrase them. Are you still confused? Consult Crowd Writer and remove any doubts.
5) Don't Repeat The Introduction
If you look for some ideas on the internet with the question of how to write a conclusion for an essay? One thing that you must have in your mind is that repeating the introduction or summarising the whole essay body in the conclusion part is of no sense.
Yes, you can take your introductory paragraph as a guide, read it thoroughly and write a restatement of your introduction instead of summarising it on the whole. Just remember to restate, not rewrite the introduction.
6) Never Add New Information
Is your mind popping up with how to write a conclusion for an essay? This fifth tip wraps up everything.  Many people thought that adding new information in the conclusion part will get them an extra card on the table. But if you do the same, you are wrong!
Remember a conclusion is the opposite of the introduction and the body content, all the new information should be added in that part only.
Conclusion
Writing the conclusion isn't as easy as it seems. You must be aware of the structure and strategies. I hope your find this writing piece informative and helpful if you are looking for how to write a conclusion for an English essay. However, if you need conclusion solutions, you can get in touch with Crowd Writer UK, the best essay writing service provider.