How to Conclude a Literature Review
By Laura Brown on 6th March 2019
Any of you who have been into research would agree that literature review is a very exhausting process. But the conclusion for the dissertation literature review is tougher because it requires you to be organised. There is not much room for you to go astray. So, here we are going to guide you for writing the conclusion into "four" simple steps. They provide an excellent presentation to your literature review help.
Make your Literature Review Conclusion Useful in Simple Steps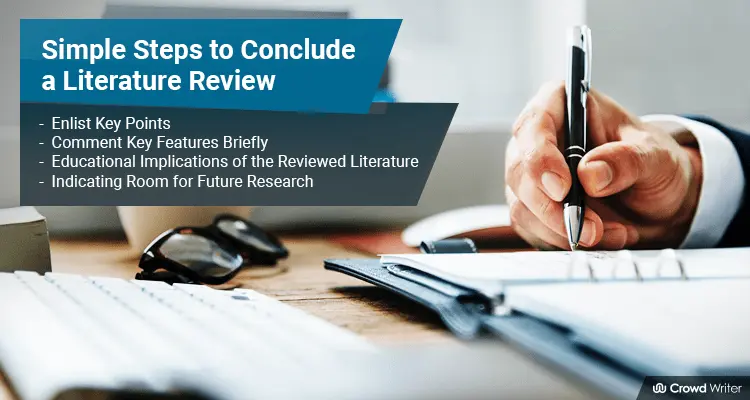 Get Expert Assistance For Literature Review
1. Enlist Key Points:
To write a conclusion, somehow you will feel that it is an easy job. Yes! It is easy to conclude your review but it can go difficult as well. Because it is hard to find key features, which should be interesting and useful for a reader to read and understand key factors clearly. Conclusion can also be said as judgement because it gives the clear view of your work whether you achieved your targeted objectives or not.
So at first, draft or enlist key factors of your literature review before going to write a conclusion.
2. Comment Key Features Briefly
This is a most sensitive and important step of a dissertation literature review conclusion where you should stick to the following things to get the job done efficiently.
Once you are done drafting the important points, here you comment them briefly.
You can also take the liberty to agree or disagree with whatever content you have gone through.
Make sure, you don't drag your arguments while counter arguing. Keeping your points specific is a key.
Describe in one to two lines, how you addressed the previously identified gap.
It is also important to point out the lapses you have noticed in the authors' work. Those lapses could be a misquotation of figures, a wrong pattern of research and so on.
3. Educational Implications of the Reviewed Literature
After mentioning the key factors, it is suggested to put implications to the already reviewed research. Like, identify problems in the already done research and give recommendations that how these problems can be resolved.
Need Help in Writing Your Literature Review?
4. Indicating Room for Future Research
After completing the whole analysis of the particular research, you will be capable to identify the work which can be done in future. You can also leave some gap for future researchers so others can extend your work.
Tips That Can Enlighten Your Conclusion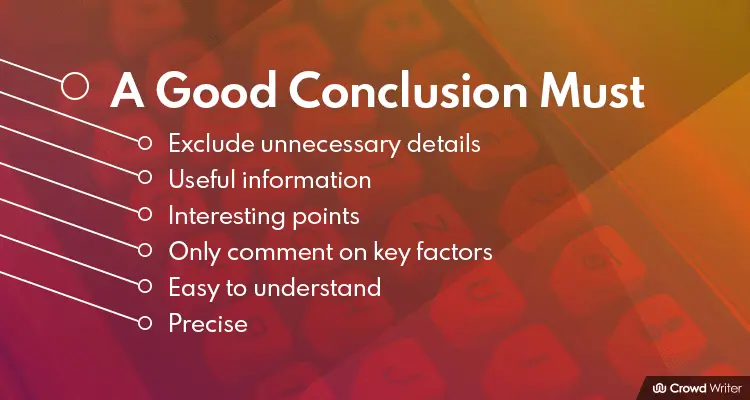 If you want your conclusion to be good and meaningful then you should keep below things in mind.
The conclusion should not be burdened with an unnecessary chain of details.
It should be as precise and easy to understand as possible.
You should mention important key points and finding.
Make sure to put all points in a flow so the reader can understand your researches in one go.
Do not add anything from your own side.
"Simply put, touch the prominent factors and leave them unexplained here".
Get Help to Conclude Your Literature Review
What basically is a literature review?

An academic content that demonstrates knowledge and understanding about a specific topic selected by a student for research purpose. It also involves a critical evaluation of the material. That's why it is termed as the literature review.

What are the 3 primary parts of a literature review?

Like most academic papers, the literature review also contains three basic elements. An introduction that includes the background information about the topic. Next is the body of the section in which we discuss the sources. The final part is the conclusion. It is basically a summary of the complete section containing some future recommendations as well. You can learn how to conclude a literature review in the above-described steps.

What are the goals of writing a literature review?

There are four primary objectives of writing a literature review. 1. Determining the background from the previous scholarly literature related to the topic. 2. Identifying the gaps between literature to boost further research. 3. Analysing if the theory is applicable and associating a suitable methodology. 4. Comparing the findings and results from the present study.

Why is it necessary to conclude a literature review?

Concluding a literature review is significant as a reader can have a good idea about the complete literature. Moreover, the reader can get to know about what could be the future recommendations of your research paper as the conclusion of the literature review touches upon recommendations as well.