Personal Statement Help by Proficient Writers
We are providing personal statement help to our valued clients with distinct quality and compliance. Our satisfied clientele designates us as the best academic assistant in the UK. Therefore, the majority of students ask us to write my assignment for me.
Almost all the higher education institutes ask for a personal statement from the candidate along with the study application. It includes an overview of your strengths and weaknesses, focusing on the particular field you have selected. Furthermore, it also describes your future interests and why you are the perfect candidate for the university.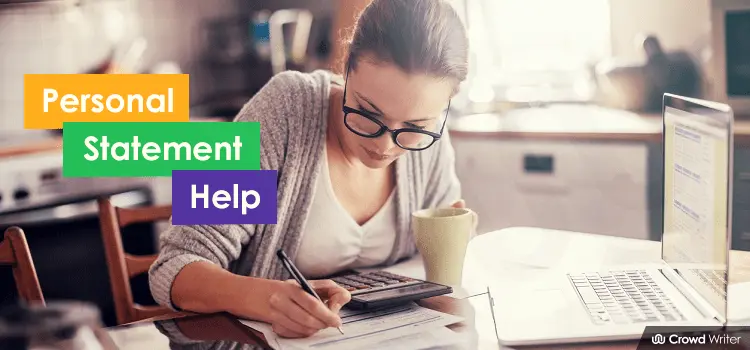 Why you should opt for us to get your work done. This is surely the first question that arises. Let us answer it for you by defining our distinct features.
Reasons To Seek Personal Statement Help From Us
We are serving our customers with quality content at a nominal price range. We own a reputation in the market for providing; assignments, papers, dissertations, and coursework help UK.
– Quality Of Work
We always deliver the quality that we promise. Our professionals create tasks that are unique with no grammatical errors. Readers find the piece fluent and engaging.
– Expert Writers
Our team consists of Masters and PhD holders who are capable of drafting the perfect material for you. All the department members are highly experienced and have a solid grip in their respective fields.
– Confidentiality Guaranteed
We guarantee the privacy of your data because of our single-blinded system. The client's information is concealed, and writers are provided with restricted information if required.
– On-Time Delivery
On-time delivery of personal statements is a crucial matter. We comprehend that the whole career depends upon it. The client instructs us on a deadline for the delivery of the work. We provide writers with an earlier deadline, almost 40 per cent earlier than the original deadline, facilitating timely delivery of material to you.
– Effective Customer Support
We provide round-the-clock customer support to help our clientele. You can contact our department via email, call, or chat to benefit from personal statement help.
– Quality Assurance Department
We have a QA department to fulfil our promise. The team verifies every material on the basis of parameters and standards of our organisation, which can help in faultless delivery to consumers.
– Revision Policy
Unlike other companies, we do not charge extra for editing requests. You can get free unlimited revisions until you are satisfied with the work. Just email your support agent if the writer has missed any initial order details, and we will be right there for you.
Embedding UCAS Personal Statement Guidelines In Our Work
According to the UK academic standards, every student has to submit a personal statement written as per the requirements of the Universities and Colleges Admissions Service (UCAS). We understand the significance of these guidelines to be catered to in your work. Therefore, we instruct our accomplished team members to follow the UCAS prerequisites in your statement. See the following guidelines regaled when you avail our personal statement help.
We use a concise and natural tone, excluding complex sentence structures.
It is instructed to our team to avoid humorous or sarcastic words.
We include your skills and qualities that must be presented in every paragraph.
Our QA department ensures to proofread every line in your report.
We draft in accordance with the maximum character limit of a UCAS personal statement, which is 4000 characters or 47 lines.
We avoid using any paraphrasing tool while drafting statements, as it may reduce the uniqueness and authenticity of the piece. If you find these UK standards troublesome, then contact us to write for you.
Why Our Personal Statement is Unique?
Following are the clauses that make our personal statement help unique and authentic.
We avoid bragging about your personality or qualities a lot, as it may create a negative impression.
Our experts embed your interest in the course to strengthen your position as a candidate.
Our team asks for feedback and recommendations from clientele prior to drafting the final material.
Every piece is 100 per cent plagiarism-free, as every application is run through a similarity check.
Our writers do not rely on grammar-checking tools. They help themselves and use their own skills to create the finest piece.
Crowd Writer Provides the Best Personal Statement Help UK
Our writers are known as the best dissertation writers UK. Consumers availing writing help are guaranteed a high calibre material that is 100% unique. We help our clientele with well-researched, plagiarism-free, and personalised content.
Customer Reviews

Liam
16 August, 2020
It was essential for me to get admission. I was once rejected, and my parents bombarded all the faults over me. Won"t disclose the name, but your writer was really helpful. He explained to me the basics of the statement and inquired about my leisure time activities. Still can"t believe that I got admission. Thank you guys, it means a lot 🙂

Emily Rose
11 December, 2020
My story is a dramatic one. Their support staffs were in collaboration with me while writing my statement. Once I was having a fever and told that guy about it. When the next time I contacted them, the first thing that their team member asked me was about my health. I am moved by the humanitarian behaviour they have shown, and I really admire it.

Victoria Wood
16 March, 2021
Their writing team contacted me for some of my habits to embed in the statement. It was shocking for me to witness a writer supporting clients beyond the limit. Because of this, they provided me with a fine piece that contains all the necessary information. I have submitted it… let"s hope for the best.

Denny
23 March, 2022
Falling for your customer support service (Y)

Victoria Harris
12 August, 2022
Voice Your Opinion!