How To Write A Report Introduction: An Academic Guide
By Laura Brown on 27th July 2023
You are definitely here to learn how to write an introduction to a report. So let's answer it directly!
Well, an effective introduction of a report should succinctly introduce the topic, state the purpose and scope of the report, and provide a brief overview of the key points to be discussed. A report introduction should capture the reader's interest and set the tone for the rest of the document.
This could be the summary of what should be included in a report introduction and how you can write it. But this summary is not enough to understand completely how you are going to start your report.
Since you are here, you must have got an academic report to tackle. Well, let's start by talking about something that's often overlooked but absolutely crucial – the introduction! Trust us, nailing the introduction can make a world of difference to your entire report.
Your report introduction is like the friendly handshake you offer to your readers. It sets the tone, gives an overview of what's to come, and entices them to stick around for the good stuff. A well-crafted intro not only impresses your readers but also shows off your writing chops and analytical skills.
So, let's dive into the world of introductions and make your reports shine right from the very start! Get ready to captivate your audience and make your mark in the educational realm. Let's go!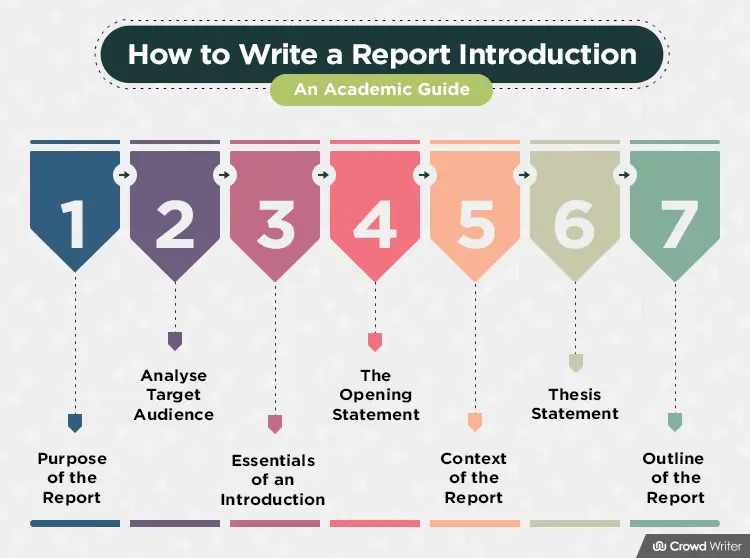 1. First, Understand The Purpose Of Your Report
To embark on successful academic writing, it's crucial to grasp the essence of your report's purpose. Reports come in various types, including essays, research papers, case studies, and many more! Each type requires a tailored approach to crafting a report introduction that captivates your readers.
Once you have identified the type of report you have got to prepare, the second most important thing is to understand why you have been given this report. What is the purpose, and what could be the possible outcome of completing this report.
2. Analyse The Target Audience
Audience engagement is a critical aspect of your report! Let's shine a spotlight on your readers, who are the real heroes, and explore the art of tailoring your report introduction to captivate them.
It is really essential to consider the readers' background and knowledge. Are they seasoned professors, fellow students, or professionals in a specific field? Understanding their perspectives helps you strike the perfect balance of technicality and simplicity in your introduction.
Crafting an introduction that speaks directly to your audience is the key. Inject enthusiasm, sprinkle relatable examples, and address their pain points. Use audience-savvy techniques, ensuring your introduction resonates with readers and leaves them eager to explore your entire report.
So, let's dive in and charm your audience with an introduction they won't forget! Let's get started with how to write a report introduction!
3. Elements of a Strong Introduction
Before we head directly into how to start a report introduction, we need to understand some basic elements of the introduction of a report. A well-crafted introduction not only piques the interest of the readers but also sets the tone for the entire document. To achieve this, it should incorporate the following essential elements:
• Opening Hook or Attention-Grabber
The first few sentences of your introduction should captivate the reader's attention and compel them to delve further into your report. An opening hook can take various forms, such as a thought-provoking question, a compelling statistic, a vivid anecdote, or a relevant and surprising fact.
• Contextualising the Report's Topic
Following the attention-grabber, it is essential to provide the necessary context for your report's topic. This contextualisation allows readers to grasp the background, relevance, and significance of the subject under investigation. Incorporate relevant historical, theoretical, or practical information to situate the report within its broader academic or real-world context.
• Thesis Statement or Main Objective
The thesis statement, often positioned at the end of the opening paragraph of the report introduction, concisely articulates the main objective or central argument of your report. It should be clear, specific, and focused, guiding readers on what they can expect to explore further in the document. A strong thesis statement sets the direction for the entire report, providing a roadmap for readers to navigate the subsequent sections with a clear understanding of the primary purpose.
• Overview of Report Structure and Sections
To facilitate navigation and comprehension, it is crucial to provide readers with an overview of the report's structure and its key sections. This section-by-section outline acts as a guide, giving readers a glimpse of the organisation and flow of the report.
By skillfully incorporating these elements, your introduction will establish a strong groundwork for your report, fostering engagement and understanding throughout its entirety. Now we can move on with your actual question, how to write an introduction for an academic report! After reading this guide, if you still find anything difficult, you can always contact our report writing service for 24/7 assistance.
4. Crafting the Opening Hook
The art of crafting an engaging opening hook lies in its ability to seize the reader's attention from the outset. Anecdotes and real-life examples breathe life into the report, making complex topics relatable and captivating for your readers. As you go on to illustrate the practical implications of the subject matter, your readers can immediately connect with the content. It will allow you to foster a sense of curiosity to explore further.
In addition to anecdotes, you should incorporate relevant statistics or data. It infuses credibility and significance into the introduction. Numbers possess a persuasive power, shedding light on the magnitude of an issue and underscoring the urgency of the report's focus. Thought-provoking questions, on the other hand, spark introspection and stimulate critical thinking. Coupled with compelling quotes, they entice readers to contemplate the broader implications of the subject matter.
An effective opening hook in the report introduction, whether through anecdotes, statistics, or questions, sets the stage for an intellectually stimulating journey through the report's core ideas. By capturing your reader's imagination, the introduction paves the way for a rewarding exploration of the report's findings and insights.
Since, students often search for how to write an introduction for a report example, here is one for you. The opening of the introduction could be like this:
In the age of digital interconnectedness, social media platforms have revolutionised the way we communicate, share information, and interact with others. The allure of virtual networks, however, comes hand in hand with growing concerns about their impact on mental health. As these platforms become an integral part of our daily lives, it is crucial to examine the intricate relationship between social media usage and its potential consequences on individuals' psychological well-being, a pressing issue that forms the focal point of this academic report.
5. Providing Context for the Report
A well-contextualised introduction is paramount to the comprehension of the matter of the report. You should first delve into the background and history of the topic to provide readers with a comprehensive understanding of its evolution over time. This historical perspective lays the groundwork for appreciating the report's relevance in the present context.
Moreover, describing the current relevance and significance of the topic bridges the gap between theory and practice. It highlights the practical implications and real-world applications, enticing readers to explore further. In addition to how to write a report introduction, it is essential to address the previous research or related studies to showcase the existing body of knowledge and identify gaps that the current report aims to fill.
By combining historical context, present-day relevance, and existing research, the introduction forges a clear pathway for readers to navigate through the report's findings, enriching their understanding and appreciation of the subject matter.
Let's have a look at an example from the sample report introduction:
The exponential rise of social media has transformed the dynamics of social interactions, communication, and information dissemination, transcending geographical boundaries. With billions of users actively engaging on platforms such as Facebook, Twitter, Instagram, and TikTok, the implications on mental health have garnered significant attention from researchers, health professionals, and society at large. This report endeavours to delve into the multifaceted impacts of social media on mental health, analysing its effects on emotional well-being, self-esteem, and psychological distress.
6. Formulating a Clear Thesis Statement
As we go on to learn how to write an introduction of a report, we should know about the thesis statement. A strong thesis statement is like the backbone of your whole work. It's the core purpose and focus of what you are doing. When you define the main objective and scope in your thesis, it gives your readers a sneak peek into what you are trying to achieve.
To make it effective, keep the thesis concise and specific. Avoid any vagueness or ambiguity. This will help sharpen the direction of the report and guide your readers to understand the main argument better.
When your thesis aligns with the objectives of your report, everything flows more smoothly. It acts as a navigational tool, guiding you and your readers through all the details and helping everyone grasp the subject matter better. So, get ready to make your report shine with a killer thesis statement!
Let's have an example of a thesis statement from the introduction of a report:
This report aims to explore the complexities of the relationship between social media usage and mental health, considering both positive and negative aspects. By synthesising existing research, psychological theories, and empirical evidence, we seek to shed light on the various mechanisms through which social media can influence mental health outcomes. Ultimately, this examination underscores the importance of promoting digital well-being and fostering responsible social media use for individuals of all ages.
7. Outlining the Report Structure
An effectively outlined report structure serves as a roadmap for readers. It gives readers a clear and organised overview of what's inside. First off, listing the major sections or points give them a quick glimpse of how it's all laid out.
And here's the trick: a brief description of each section helps readers know what to expect. That way, they can read with focus and easily find what they need later.
When you highlight the logical progression of the report, it keeps everything flowing smoothly. Each section builds upon the previous ones, creating a cohesive narrative. This way, readers can get a comprehensive understanding of the topic.
Putting it all together, a well-structured report becomes a valuable guide for your readers. It leads them through all the details and ensures a rewarding and informed reading experience.
Do's & Don'ts of How to Make a Report Introduction
| | |
| --- | --- |
| Dos | Don'ts |
| Use a formal and professional tone | Use vague language or jargon |
| Keep the introduction concise and focused | Introducing information not in the report |
| Review and revise the introduction as needed | Overuse of complex sentences or excessive adjectives |
Concluding on How to Write a Good Introduction for a Report
A strong introduction forms the backbone of your report, as it plays a pivotal role in engaging readers and guiding their journey through the study's contents. By recapitulating the significance of a well-crafted introduction, we underscore how it captivates readers from the outset, fostering their interest and curiosity.
The introduction sets the tone for the entire report, shaping readers' perceptions and expectations. As this guide highlights the key elements for creating an effective introduction and how to start writing a report introduction, we encourage students to apply these principles to their own reports. By doing so, they can elevate the impact of their work, leaving a lasting impression on their readers.
We hope that this guide will help you through the introduction process. You can further go on to read how to write a conclusion for a report, so that you can create an excellent report for you.