How to Structure a Literature Review for a Dissertation
By Laura Brown on 26th February 2019
Literature review is nothing but the assessment of the selected readings. You may be assigned it to be done for three purposes:
To review a book or an article also known as critical review
To review bunch of readings and summarise the key points that is termed as annotated bibliography
The last and main purpose is review of available literature chosen for a dissertation. This is called as literature review of dissertation.
This blog will briefly tell you how you can structure your literature review for your dissertation.
Get Help For Your Dissertation Literature Review
If you think that the literature review section of a dissertation is difficult to write, then I must say that you are wrong! If you know how to write an essay, then you can structure a literature review efficiently without any barrier. You may know that an essay has three parts introduction, main body and conclusion. Similarly, literature review's structure is just like any other essay:
Introduction
Discussion (main body)
Conclusion.
To structure a good literature review, you should create a complete concept in your mind. It includes from where you need to start and how you will conclude the whole review. Below, is the complete outline that you can take as a guide to structure your good literature review.
Structure a Literature Review in Easy Way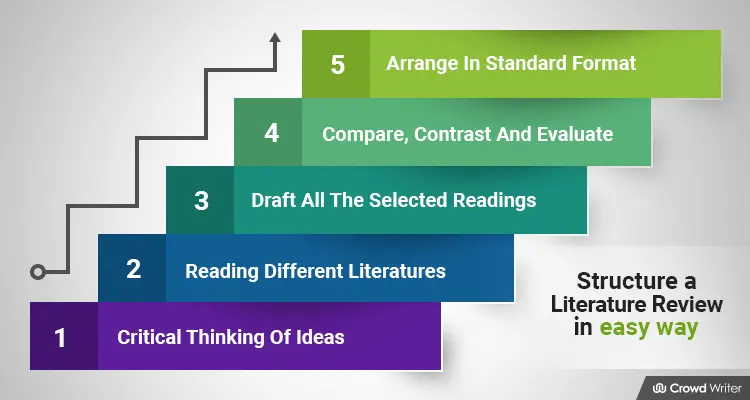 Get Your Dissertation Literature Review by Professionals
To make the good structure of literature review that can get you distinct in the career, you have to touch all the main aspects of the research. Usually, researchers forget some crucial points and readings while structuring a literature review. If you do not want to leave any point unaddressed then you should keep in mind below:
Critical Thinking:
You need brainstorming of the ideas that how you will take your research. For example, what type of databases you will use and where you will get your concern research literature.
Reading Different Literatures:
After making mind of the sources, go for reading different literatures of the concern research subject area.
Draft Selected Researches:
Afterwards of reading different literatures, draft main and closely related research parts.
Compare and Evaluate:
Then compare and evaluate those readings. Like, find out the gaps in the already available research and current knowledge.
Formatting:
Finally, arrange your whole literature in standard format of dissertation writing services. It will increase the readability score as well as reader's willingness.
Format for Structuring a Literature Review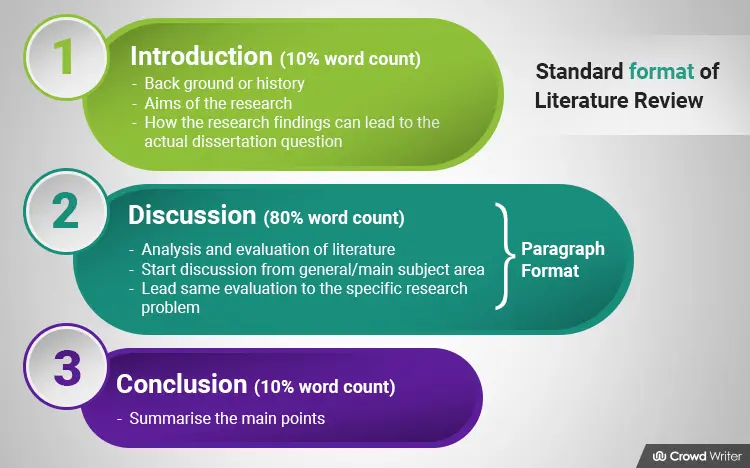 Get Assistance by Experts in Literature Review
A literature review can be structured in below format:
Introduction:
Briefly define the research topic
Mention the reasons and aims of the review.
Mention concisely, how your selected research will lead to the actual dissertation question.
Mention inclusion and exclusion of the literature like what is included and what is not included in the research.
Mention gaps in the research and how your research will fill those gaps.
Discussion:
Discuss the selected research in paragraph format
Start your evaluation from the general subject area and move on to specify it to your research question
For example, 'education' in general and specifically will be 'early child education'.
Select a wide range of literature sources. However, it is better to use the sources which are up to date and recent like not older than 5 to 7 years.
Mention the literature gap that is still left to be filled. Like future work on the literature review of the selected research area.
Conclusion:
Conclude your overall perception on the topic.
Summarise the key points evaluated in the discussion section.
Outline the associations of the identified issues and recommendations for future review work.
Get Help For Your Dissertation Literature Review
Things Which Makes a Literature Review Good
| | |
| --- | --- |
| Good Quality | Bad Quality |
| Concise and clear | Descriptive |
| Contain wide range of sources | Contain less and limited sources |
| Contain clear comparison and evaluation of the literature | Contain summaries of literature with no analysis |
| Relevant headings and topics | Irrelevant headings |
| Structured in standard format | Lacks proper format |