How to Structure a Literature Review for a Dissertation
By Laura Brown on 26th February 2019
A literature review structure typically contains three essential parts,
Introduction: It provides an overview of the topic or research question being addressed, and explain the purpose and scope of the literature review.
Main Body: This section includes the methodology, themes/sections, and discussion/analysis. It provides a comprehensive analysis of the literature on a particular topic, synthesizes the findings, and identifies gaps or limitations in the literature.
Conclusion: Here, the researcher summarises the main findings, highlights the implications of the findings, addresses the limitations and provides recommendations for future research.
Basically, literature review is the assessment of the selected readings. You are often asked to write it for three purposes:
To review a book or an article, also known as a critical review.
To review a bunch of readings and summarise the key points that are termed as an annotated bibliography.
The last and main purpose is reviewing available literature chosen for a dissertation. This is called a literature review of a dissertation.
We have observed that students face numerous challenges when they structure a literature review paper and are left with no option but to buy literature review online. This blog will solve your problems, and we will briefly tell you how to structure a dissertation literature review.
Get Help For Your Dissertation Literature Review
What Is Included In Literature Review Structure
If you think that the structure of a literature review is impossible to prepare, then you might be wrong. If you know how to write an essay, then you can structure a literature review efficiently without any barriers. You may know that an essay has three parts: introduction, main body and conclusion. Similarly, the dissertation literature review structure is just like other essay structures, which contains:
Introduction
Discussion (main body)
Conclusion
To structure a good literature review, you should create a complete concept in your mind. It includes where you need to start and how you will conclude the whole review. Below is the complete outline that you can take as a guide to structure your good literature review.
Structure A Literature Review In An Easy Way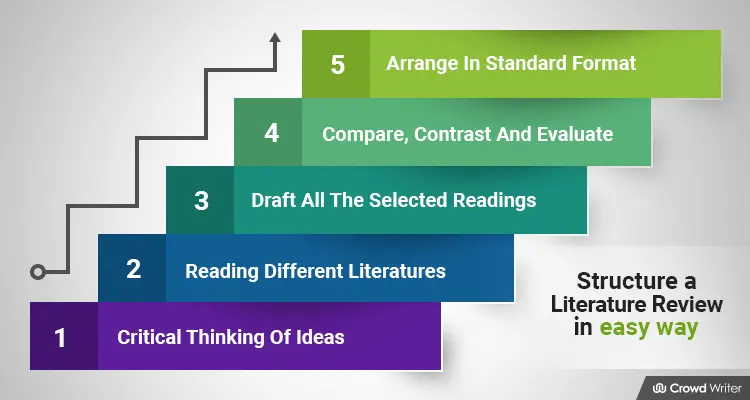 Get Your Dissertation Literature Review by Professionals
To make a good structure of a literature review in your dissertation that can get you distinction in your career, you have to focus on the main aspects of the research. Usually, researchers forget some crucial points and readings while structuring a literature review. If you do not want to leave any point unaddressed, then you should keep in mind below:
Critical Thinking

You need to brainstorm ideas of how you will carry your research. For example, what type of databases you will use and where you will get your concern research literature.

Reading Different Literatures

After making up your mind about the sources, go for reading different literature on the concerned research subject area.

Draft Selected Researches

After reading different literatures, draft the main body and closely relate research parts.

Compare and Evaluate

Then compare and evaluate those readings. Like, finding out the gaps in already available research and current knowledge.

Formatting

Finally, to come up with the finest literature review structure, arrange your whole literature in the standard format of dissertation writing services. It will increase the readability score as well as the reader's eagerness.
Literature Review Format For Dissertation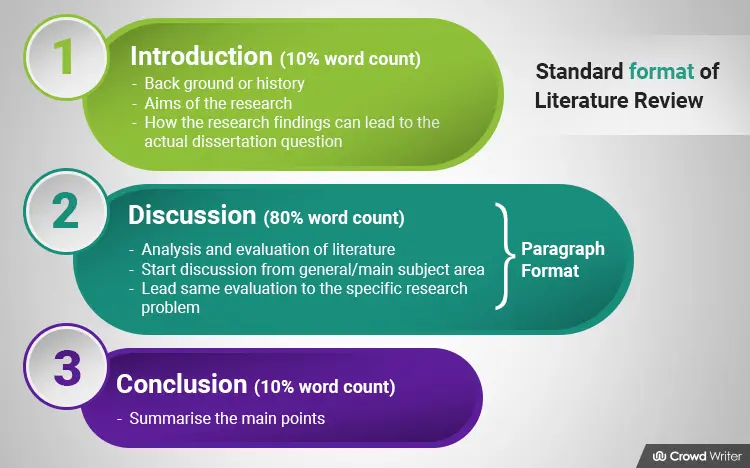 Get Assistance by Experts in Literature Review
According to a survey, almost 50% of the students face difficulties with it and often look for the structure of literature review examples. Well, here is how you can do it. Let's understand how to structure a literature review of dissertation.
Introduction:
Briefly define the research statement based on the previous studies on selected topic.
Mention the reasons and aims of the review.
Demonstrate concisely how your selected research will lead to the actual dissertation question.
Mention inclusion and exclusion of the literature, like what is included and what is not included in the research.
Mention gaps in the research and how your research will fill those gaps.
Discussion:
Discuss the selected research in paragraph format. You need to be careful about the literature review paragraph structure. Here, you can also use headings and subheadings.
Start your evaluation from the general subject area and move on to specify it to your research question. For example, 'education' in general and 'early childhood education' in specific.
Select a wide range of sources to strengthen your structure for literature review. However, it is better to use sources which are up-to-date and recent, like not older than 5 to 7 years.
Mention the literature gap that is still left to be filled. Like future work on the literature review of the selected research area.
Conclusion:
Conclude your overall perception of the topic with preferred models.
Summarise the key points evaluated in the discussion section.
Outline the associations of the identified issues and recommendations for future review work.
This is simply how should a literature review be structured. Once you are familiar with the dissertation literature review structure, it's time to delve into some tips for a literature review dissertation.
Get Help For Your Dissertation Literature Review
Things Which Makes A Literature Review Good
| | |
| --- | --- |
| Good Quality | Bad Quality |
| Concise and clear | Descriptive |
| Contain a wide range of sources | Contain fewer and limited sources |
| Contain clear comparison and evaluation of the literature | Contain summaries of literature with no analysis |
| Relevant headings and topics | Irrelevant headings |
| Structured in the standard format | Lacks proper format |
How To Write A Good Dissertation Literature Review
Writing a literature review can be a daunting task, but it is an essential part of any research project. A well-written literature review provides a thorough understanding of the research field, identifies gaps in the existing literature, and helps to establish the importance of proposed research project. Here are some tips to help you structure your literature review effectively:
A. Start with a clear introduction

In a proper structure for literature review, you should begin by providing a brief overview of the research area and the scope of your review. State the research questions or objectives that you aim to address through your literature review.

B. Identify the relevant literature

Conduct a comprehensive search of the literature using academic databases, such as Google Scholar, PubMed, and JSTOR. Identify the most relevant and recent studies, including theoretical and empirical research, to provide a comprehensive understanding of the research field.

C. Organise the literature

This is the most crucial part while you prepare the structure of literature review dissertation. Organise the literature based on themes, theories, or chronology. A thematic literature review groups the literature based on the key themes or key concepts that emerge from the literature.

A theoretical literature review evaluates the existing theories and frameworks in the research field. A chronological literature review presents the literature in form of publication, highlighting the historical perspective of the research field.

D. Critically evaluate the literature

Analyse the literature critically by comparing and contrasting different studies, highlighting their strengths and weaknesses, and identifying significant flaws, themes or gaps in existing knowledge. This will help you to establish the relevance and importance of your proposed research project.

E. Summarise the literature

Summarise the key findings by highlighting the main trends and themes that emerge from the literature. This will help you to provide a comprehensive overview of the research field and to establish the relevance of your proposed research project.

F. Write in a clear and concise style

Write your literature review in succinct manner, using appropriate academic language and referencing conventions. Ensure that your writing is well-structured and flows logically, with each paragraph focusing on a specific theme or aspect of the literature.

G. Conclude with a summary and future study

The final tip to structure a literature review of dissertation is to conclude your literature review by summarising the key findings and conclusions of the literature, highlighting any gaps or inconsistencies, and identifying the future directions for research in the field.
Tips In One Go
Introduction to the literature
Identification of relevancy
Organisation based on themes & theories
Critical evaluation of the literature
Summarising the key findings
Writing in a clear style
Conclusion along with the future direction
Summing Up On How To Structure A Literature Review Of Dissertation
In conclusion, writing a literature review for a dissertation can be a challenging task, but by following these tips, you can come up comfortably with an astonishing structure of literature review dissertation and provide a thorough understanding of the research field. Remember to critically evaluate the literature, summarise the key findings, and follow concise style of writing.
Still, if you face any challenges with the literature review structure, we are always open to assist you. You can buy literature review paper with just a single click.
Source & References:
https://www.monash.edu/learnhq/excel-at-writing/how-to-write…/literature-review/structuring-a-literature-review
https://www.rlf.org.uk/resources/the-structure-of-a-literature-review/
https://www.citewrite.qut.edu.au/write/writing-well/litreview.html
https://libguides.westminster.ac.uk/literature-reviews/structure
https://www.anu.edu.au/students/academic-skills/research-writing/literature-reviews/structuring-a-literature-review
https://writingcenter.unc.edu/tips-and-tools/literature-reviews/
https://guides.lib.uoguelph.ca/c.php?g=130964&p=5000948
https://research.library.gsu.edu/c.php?g=115595&p=754162
https://www.otago.ac.nz/hedc/otago615355.pdf