How to Write an Abstract for a Dissertation
By Laura Brown on 21st February 2019
An abstract is to be written for various purposes like for conference, research paper, report or for a dissertation. This article is purely specific to write an abstract for a dissertation. I have given my best to make your concepts crystal clear about abstract writing. After reading below steps, you would be able to write an effective abstract easily. Even you will become capable enough that other folks buy dissertation online from you.
Write an Excellent Abstract for your Dissertation in Easy Steps
While writing an abstract, keep in mind that you need to write in such a manner so that it creates interest in the readers' mind. Make sure that the sentences should be in the flow. Like, it should be as a story or a magazine, but the selection of words must relate to original work.
"In a nutshell, write around one sentence for each key component"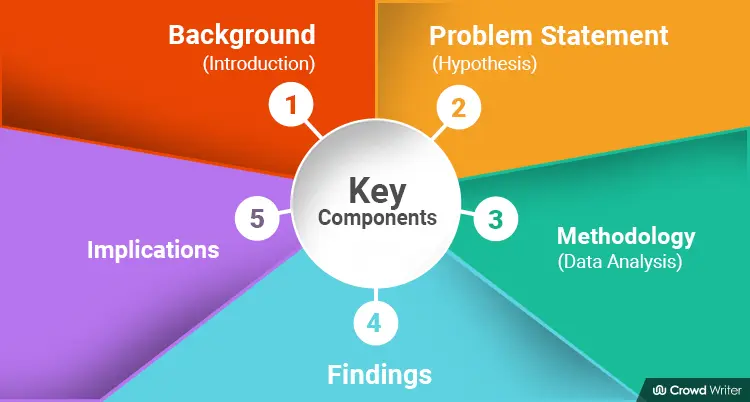 Get Expert's Assistance in Your Dissertation Abstract
5 Easy Steps to Write an Abstract
Background/Introductory line to topic:
Write one to two sentences about the background information of your key research, or you can start your abstract with a sentence that really connects with the thesis title.
Problem statement/hypothesis:
After background info, write a sentence on the problem statement which shows the research question.
Methodology/data analysis:
After the research question, go for methodology. What methodology you have applied in the paper and what type of data you have analysed, you just need to mention concisely.
Findings:
On the fourth and main step, you have to correctly put your findings.
Recommendation/implications:
Finally, write your recommendations or implications for the study.
Here you go! You have just finished your abstract.Now, still if you are confused whether you have written abstract well enough or not. You should check below things which should be consider or avoid while writing an abstract for a dissertation.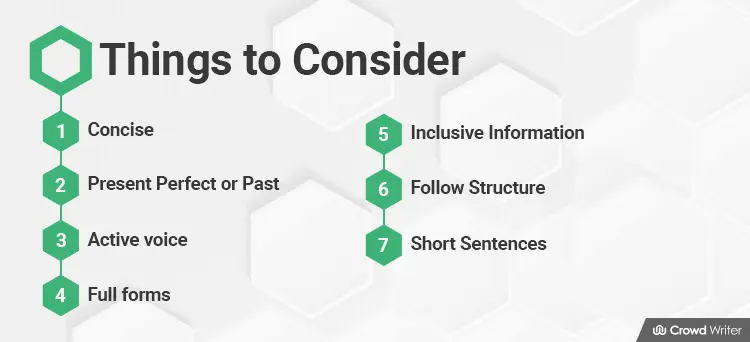 Acquire Help in Writing Your Dissertation Abstract
Things Which Need Intense Consideration While Writing an Abstract
While writing an abstract, there are some specific things which need your deep consideration. By following all these suggestions, you can write an excellent abstract and submit it in your institution without any fear. Check below points:
Your abstract should be concise and limited to 300 words for 10k words dissertation.
Abstract must be written in the present perfect tense or past tense.
A good abstract is that which is written in active voice.
Make sure to present all key components in the abstract.
Use only full forms
For example: 'Adult Basic Education' instead of 'ADE'.
The information in the abstract should relate to the actual work.
Follow the proper structure as in this way you will not miss any relevant information.
Structure: Background > Problem statement > Methodology > Findings >Implication.
Make sure to write short sentences, because long sentences lose quality and meaning.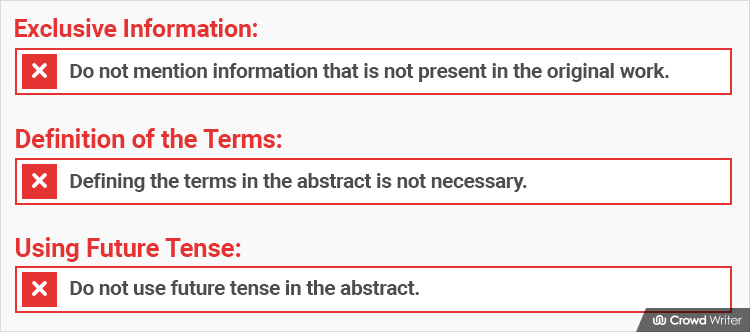 Things, You Should Avoid While Writing an Abstract
There are some essential things which you should avoid while writing an abstract for a dissertation. Below are some critical points:
Do not use exclusive information that is not present in the original work.
As abstract has limited words, so the definition of the key terms is not essential.
Do not use future tense because abstract is an overview of already researched work.