How To Choose A Dissertation Topic In 7 Steps
By Laura Brown on 16th July 2020
Are you struggling to choose a dissertation topic? Well, no need to struggle any more. Take the following quick action, and you will be able to understand how to select a dissertation topic.
Know the requirements of your institute
Determine how to come up with a dissertation topic based on your degree level
Focus on your niche and what you can do better
Analyse feasibility and understand what makes a good dissertation topic
Go for a topic that is relevant to your expertise
Have a topic that could be engaging and convincing for the readers
Check the available literature on the chosen topic
Choosing a dissertation topic has always proven to be one of the most challenging tasks. Have you ever been to this? We are sure you would have. If you are a higher education student, you must have thought about what should I write my dissertation on?
Do you know that only 26% of dissertations get published in peer-reviewed journals? It shows that the topic and quality of dissertations have to be of such quality that it gets the attention of top journals.
Choosing the right dissertation topic that you can do your primary research on and that also goes with your mindset is essential. We know it has been hard on you, but don't worry, the expert writing team at Crowd Writer got you covered with this excellent guide to master thesis topic selection.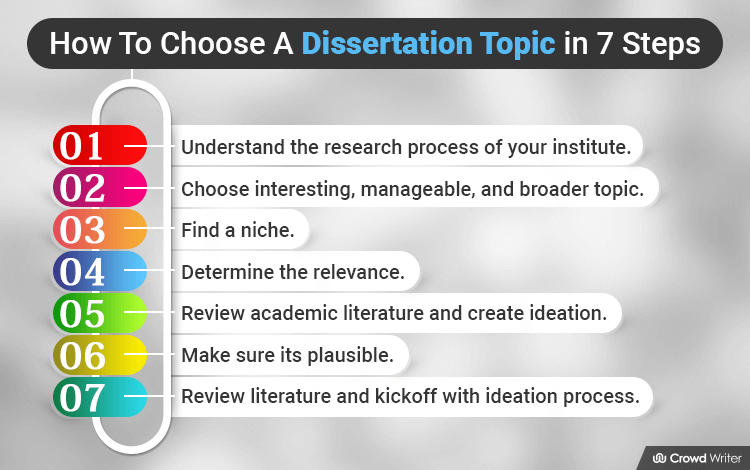 7 Steps To Choose An Amazing Dissertation Topic
Here is the list of seven steps that every student should follow to select a wonderful dissertation topic.
1) Understand The Research-Process Of Your Institute
One of the horrible mistakes that some students mostly make is that they skip the fundamental part and straight jump to the ideation phase, and then pay for it.
While struggling with how to find a dissertation topic, always start your process with the provided instructions and handouts given by your university or supervisor. Begin with thorough research, as it is an integral part of the process. You will find hundreds of ideas related to your research interest.
You must have basic knowledge of the research process and its analysis and methodologies. If you don't have an understanding of different research methods and you start ideating, then you may put yourself in trouble. In such circumstances, you can avail of dissertation writing services by getting in touch with experts at Crowd Writer.
2) Choose A Dissertation Topic Based On Your Degree & Interest
Topics are normally categorised based on what you have learned during your degree. If you are running through the internet, you must look for a dissertation topic for masters on the basis of your particular degree or program. Similar goes for the PhD and/or undergraduate students.
Always do what interests you, have a company of like-minded people, and write on the topic that you can relate to in order to bring the best out of you. One big mistake that students mostly make is that they go off the path and select a topic despite their interest that turns out to be boring.
Students sometimes think that a topic would sound functional, engaging, and appealing to the professor, but what about you? What is your area of interest? The professor will evaluate your research topic according to the content provided, not by what he likes.
For instance, if you're a medical student, you would probably think about choosing a few nursing dissertation topics initially. Go and take assistance from the internet, read university handouts, and consult pass-out students. But most importantly, listen to your heart.
3) How To Pick A Dissertation Topic With Your Niche
This is the question that pops up in every student's mind. As we move to the third step, it says that after doing the preliminary research, it is time to narrow down your area and find the niche to choose.
Business, arts, sciences, and psychology, every field has thousands of options available for dissertation topic selection. For example, students from a particular field like medicine usually look for a topic related to their area of specialisation, such as adult care, primary care, clinical management etc.
4) Pick a Reasonable and Feasible Topic
You are the person who will do all the research, and it is super important that your dissertation title makes you comfortable and confident.
Please don't fall for a difficult topic that requires you to achieve extraordinary outcomes. Your main goal should be to acquire the best grade with a flawlessly written submission.
So if you are a student and confused about how to decide on a dissertation topic, don't freak out, Crowd Writer UK has hundreds of great ideas.
5) Determine The Relevancy
When you ask how to choose a dissertation topic for an undergraduate, it is essential to know that your topic must be engaging and relevant to your course. Academic relevance must reflect in your content. It should be clear and must not be vague in any sense so that you can explain the research question in your dissertation.
For undergraduate students, it is vital to be relevant to the topic. You can search on engines for various topics which determine the relevance according to your field.
6) How To Choose A Dissertation Topic Which Is Convincing
Maybe you have an idea as to what your title must be. But, wait and meet a checklist, e.g., consider the length of the whole composition and how long should an abstract be? Is it achievable in the time available to you, the practicalities of conducting the survey, and the sources to collect the data?
Evaluate that will you be able to review the amount of literature needed to get your doubts clear? Will you be able to narrow down the information? And lastly, will you be able to complete the research process for that topic without losing interest till the end? Not only that, you have to keep in mind your interest, but make sure that the title is interesting and engaging for the readers as well. For this, try to come up with a unique topic which can provide some new perspective or information to the readers.
If you have answers to all the questions asked above, then yes it is a topic that you have in your mind is cogent and plausible.
7) Review Literature & Kick-off With Ideation Process
When you get the answer to your question, start reviewing past literature on the selected topic. Remember, before reading this, you were questioning yourself regarding how to pick a dissertation topic. Now you have done your research, understand the university's guidance, and have the idea of your creation with interest.
The last process that you can get on with is the ideation process. Start collecting essential research findings and pen them down. A literature hunt must be done in the beginning because it provides a direction to your project, and you can be assured that you can have significant evidence for the arguments.
Conclusion
Understand the process of research and your knowledge in the field. While drafting the content is the key to the success of your dissertation, picking a good topic is equally important. Most people get stuck in the first step of dissertation composition. We believe that this guide will make things easier for you.
If you are looking for what should a personal statement include or you want assistance in dissertation writing, you can contact the best service provider which satisfies your needs and understand the requirements perfectly.
Your dissertation is the last arrow in your quiver. Make it hit the target and we hope that it is now clear for you how to choose a dissertation topic that suits your approach.
Sources
https://online.essex.ac.uk/blog/choose-dissertation-topic/
https://www.escholar.manchester.ac.uk/learning-objects/mle/dissertation-topic/story_content/external_files/cheat-sheet.pdf
https://www.ncu.edu/student-experience/online-education-guide/dissertations/choosing-a-dissertation-topic#gref
https://www.uagc.edu/blog/how-choose-your-dissertation-topic-6-steps
https://www.waldenu.edu/online-doctoral-programs/resource/how-to-choose-a-dissertation-topic-for-your-doctoral-degree
https://www.ceu.edu/article/2019-03-29/how-choose-your-thesis-topic