What Should A Personal Statement Include?
By Laura Brown on 21st September 2020
Writing a personal statement is creating a hook which enraptures the reader and makes the prospect read it till the end. It is a part in which you tell about yourself in detail considering the field and courses you applied for.
What Is A Personal Statement?
A personal statement which is also called as an admission or application essay is understood as the personal summary given to prospective organisations which help you stand out from the rest. To some people, the personal statement is more like a personal introduction submitted to a selection committee. Generally, a personal statement should have 500-600 words.
A personal statement is a necessary document to be submitted at the time of admission with university applications. So, what should a personal statement include? Every student must know things to include in a personal statement.
Generally, it includes a picture of you as in a written portrait. It is basically an invitation for the reader to know about you and how you are a perfect fit for a particular field of study. Moreover, it should give an idea about your priorities and judgement and lastly your story.
Do You Know What Should A Personal Statement Include?
Are you seeking for what to include in a personal statement for uni or what to include in a personal statement CV, keep reading, you are on the right page.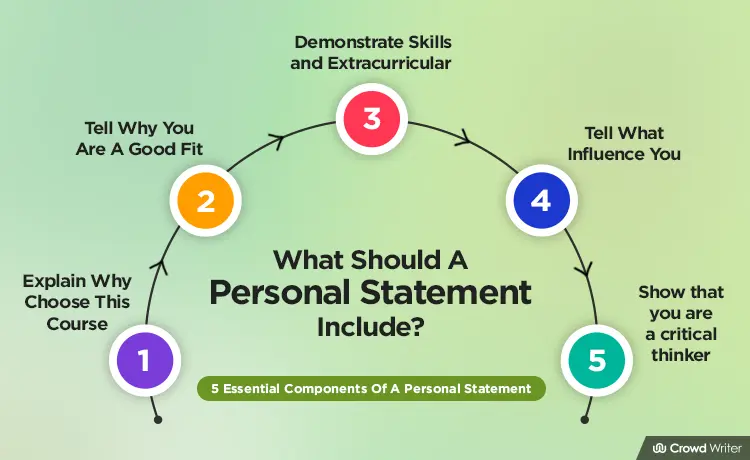 5 Things To Include In A Personal Statement
Here is a list of five things every student should include in a personal statement.
1. Explain Why To Choose This Course
A personal statement is your passport. So imagine you get the customisation of the passport, do it in such a way that it goes to the point. Give your readers an idea of why you are choosing this course, what your desires are, and why you will be a good fit in this department.
Make them aware with your aspirations, and this is the first component of your question what should a personal statement include.
2. Tell Why You Are A Good Fit
It is a part which needs much of your focus because it describes why you want to pursue it and how your existing skills and abilities would help you. Talk about your academic score, your subject and field of interest, your leadership skills, and other things you are good at.
Explain why you will be a good fit for the program and detail almost everything that can lift your profile. This is another addition in what to include in a personal statement for uni.
3. Demonstrate Skills & Extracurricular
Being good at academics is just a single factor. Another addition to the collection is about your skills, social life, and extracurricular activities. If you add this in your statement, the admission counsellor will be able to see you as an applicant who can contribute to the greater community of students.
4. Tell Your Influences
Telling the institute what inspires you or what influence you to go on this track is another fact. Create a story which tells the reader as to what your aim is to be as you decide to get into this field or profession.
Tell the admission officer which personalities influence your life, and by having this, you can have a high impact in choosing the course. This component can also be added for the people who want to know what to include in a personal statement CV. But if you are not familiar with this document, you should consult Crowd Writer UK.
5. Demonstrate Your Critical Thinking Skills
Critical thinking is essential whether you're writing a personal statement or wondering how to write a conclusion for an essay. Critical thinking is understood as the analysis of facts to form an opinion or judgement.
Tell the admission officer about your rational, sceptical, unbiased analysis, or evaluation of evidence which proves that you have the capability to think out of the box.  
Don't worry if you lack critical thinking skills, because it can be improved over time. Contact the experts at Crowd Writer and buy personal statement writing service. The pros here exactly know what should a personal statement include and offer the best services at low prices.
Conclusion
In conclusion, be sure that you check all the components discussed above for transcending while writing your statement for academic or employment purpose.
No matter whether you are looking for a research proposal writing service or want to know how to structure a literature review, Crowd Writer is the answer to all of your problems. So why wait? Contact the pros today and leave all your worries behind.