How to Use Turnitin For Checking Plagiarism
By Laura Brown on 2nd September 2021
Students nowadays may consider themselves a champion in academic written work by simply knowing how to write a reflective essay. However, what they don't understand is that plagiarism in their work can quickly kill their grades or chances of passing their respective courses or applied subjects. This is why it is increasingly important that they know how to use Turnitin. Plus, some of you might even be interested in knowing how to use Turnitin for free, but that is a discussion for some other day.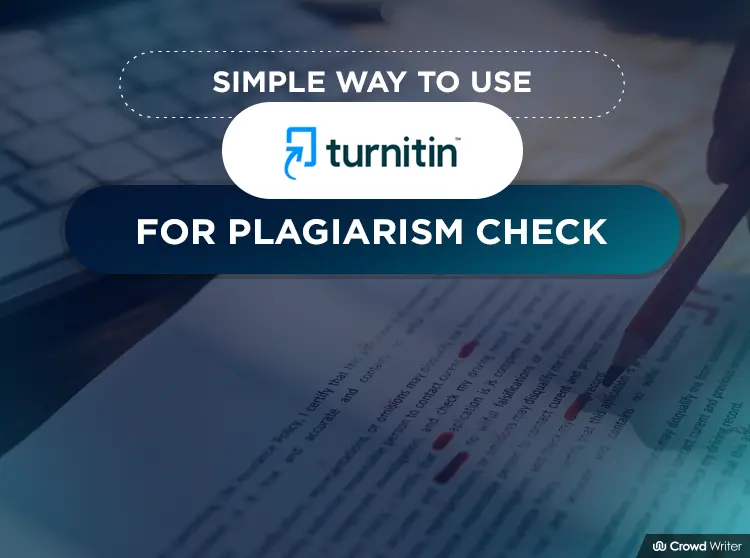 On the other hand, many students would also agree that when they check Turnitin plagiarism, it greatly improves their ability to score better grades. This is extremely true because all higher education students are required to deliver 100% original work that is completely free from all forms of plagiarism.
Not a single institute will standby copy-pasted work and do nothing. This is exactly why you should know how to submit on Turnitin. Otherwise, things can get pretty risky for you in academia.
Why Does It Matter If You Know How To Use Turnitin In The First Place?
For rebels inside all of us, you might be asking why should I be bothered to know how to submit on Turnitin in the first place? The answer is pretty simple.
Most students don't know that Turnitin isn't just a simple plagiarism tool. It offers incredible insights into the mechanics of your writing as well. In fact, the question you should be asking is, in fact, how to use Turnitin for free because as a recommended tool by any educational institutes, it indeed on the expensive side.
According to a recent study by Turnitin.com, their web crawler targets 68 million web pages a day, with over 15 million new web resources added to their content database each day. Furthermore, in excess of 1 million student papers are uploaded daily, and their content database contains 70 billion current and archived internet pages.
Moreover, Turnitin retains all copies of all web pages it has crawled. There are over 1 billion student papers in their content database. From top publishers, there are over 47,000 journals and over 69 million articles.
How To Use And Check Turnitin Plagiarism Tool?
While writing a compare and contrast essay, you might have been required to share some genuine and authentic references from credible sources. However, if you don't do it appropriately, do you know it can count as unintentional plagiarism in your paper?
Sounds scary, right because those who know the troubles of plagiarism in academic work. The results can range from the negative marking on your paper and even a final warning issued by your institution.
With risks that high, no wonder students are wary of having any form of plagiarism in their work. Here are some tips and guidelines that can help learn how to use Turnitin:
Know About Turnitin First
It is important that you understand that as a student, you cannot use Turnitin for free. In fact, Turnitin only makes its plagiarism prevention software available to universities and institutions such as Crowd Writer. So, to log in, you need permission from your instructor.
Website Or External Tool
Turnitin can be accessed using Turnitin.com or TrunitinUK.com through the website. There is also an external tool (LTI) that plugs into thousands of LMS (Learning Management Systems) across the world.
Who Gets Access Then?
In a wide variety of universities, in order to check Turnitin plagiarism, only course instructors have access. Students cannot check their own papers via Turnitin without an instructor-created assignment.
Single Uploaded File Only
When learning how to use Turnitin, go to the Assignments section and then click add assignment form. Under the assignment, name the assignments, add dates and select "Single Uploaded File Only".
Turnitin Service
Under the Turnitin Service, checkmark "Use Turnitin", and from here, you can select the appropriate Turnitin options such as file types, standard paper repository when to generate originality reports, and whether allowing students to view the report or not.
Additional Options
When learning how to use Turnitin, you might come across additional options likes checking originality against a range of selections. These include the likes of Turnitin paper repository, current & archived internet, periodical, journals, publications, etc.
Submitting Papers To Repository
At Crowd Writer UK, the Standard Paper Repository is used, which means originality check is performed on the paper, and it will go into Turnitin's Paper Repository. However, there is an alternate and opposite option that is also available.
Generate Originality Reports
Finally, in how to use Turnitin, you get the option for choosing when to generate originality reports. Here you can select "immediately", which will take 15-20 minutes, depending on the length of the paper, or you can select the "On Due Date" option to delay that process.
Mobile Support
Turnitin also offers tutorials to help you access and use Turnitin from your iOS device. This is one of their latest features and helps you stay connected with their services while on the move. Android users might have to wait a bit before service is made available for them as well.
Turnitin Draft Coach™
There are also students drafting within Google Docs that students can use readily without any fuss. This tool is aimed to help students improve their writing and research skills. Students can also access Similarity Reports and citation feedback as they draft in Google Docs.
Final Word
Turnitin is a great tool, and I highly recommend that you consider using it in the future to stay away from plagiarism in your academic-related work. However, in the meantime, if you need any support, such as an assignment writing service UK, then you can always contact us.
To be on the safe side, all of the work that we provide you is also cross-checked by Turnitin as well, and not only that, we share the report with our clients to ensure that they receive only original written work from us. That's it for now. Cheers and all the best for your future endeavours!