Indeed Work From Home Jobs For University Students
By Laura Brown on 16th March 2022
Students are often stuck about how to get a scholarship. As per the survey conducted by Crowd Writer in 5 different universities of the UK, about 80 per cent of students are looking for jobs. They search for Indeed work from home positions continuously so that they can manage their livelihood.
Well, there is no need to challenge yourself anymore with this hunt.
Indeed Work From Home Opportunities
As always, we are making your life easier and here is the list of some great opportunities for students in the UK to avail of.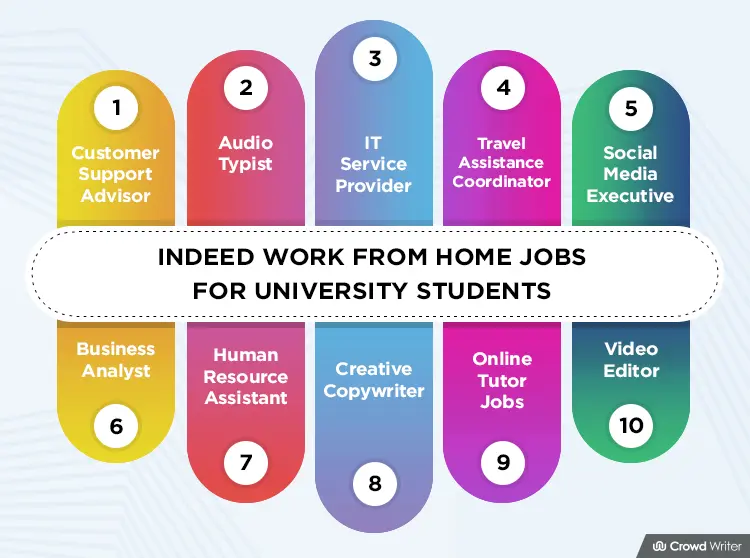 1. Customer Support Advisor
If you are good at resolving issues and can make friendly conversations, this is the correct job for you. There are multiple opportunities on Indeed and various platforms for this particular position.
All you need is to apply for the job, and you can earn about ₤15000 to ₤20000 annually.
Grip the product your company is selling, and you can easily manage this job from home along with your studies.
You will be given proper training for the organisation's operation and deliverables so that you can satisfy the clients on their personalised needs as per company products.
2. Audio Typist
Various companies in the UK are offering Indeed work from home opportunities in terms of audio typing. You can contact firms like Transcriber if you have the following skill set:
Previous audio typing experience
A typing speed of 80 wpm or above
Oral and written English language
Perfect grammar and spelling
Knowledge of current affairs
Time management and coping with deadlines
20 hours of free time a week
Sufficient IT skills
This is a perfect job opening for students to type down different audio materials. It is among the most enjoyable and flexible part-time jobs that can be managed easily from home.
3. IT Service Provider
Are you one of those who have been helping their friends with resolving IT issues in their PCs? Then you literally have an opportunity to grab. If you are good at networking and have a handsome knowledge of software, you can easily join a remote company and serve them with your skills at a good rate.
Due to the pandemic, so many organisations are working remotely, and alongside networking companies, all the other firms have a job opportunity for an IT person. You can join them and save some pennies for yourself.
4. Travel Assistance Coordinator
Among so many other jobs for students in the UK, the destination being famous for tourists provides you with an opportunity to be a travel coordinator.
If you are a nature lover and well aware of the local areas that can be of great interest to the tourists, then this is the right opportunity for you.
All you need is to drop your CV or give a phone call to a local tourist firm and show your availability. You can work on weekends to get paid and manage your living expenses along with your academic fees with this earning.
5. Social Media Executive
So, you enjoy scrolling down social media and are well connected with the updated social technology. Then here is an opportunity for you to get paid with your skills. All you need is to manage the social media accounts of any firm and bring them customers and visitors. Boost their pages and posts and get your commission.
If you have an interest in this job but are not aware of various tools that can help you with social media marketing, then do not be afraid. A simple weekend course of 8 to 10 hours can help you acquire great skills for these Indeed work from home jobs.
6. Business Analyst
Businesses are up to enhancing their performance with advanced tools that can collect meaningful data for them and analyse it to provide suggestions and upgrades. If you have experience in a particular field and are capable of managing and analysing data with the help of different software, then this is the perfect job for you.
You can easily manage it working from home at weekends or after the academic schedule. It can help you earn £36,329 – £45,998 annually, depending upon the nature of work.
7. Human Resource Assistant
Are you a good communicator and can build quick relations with the people around you? Do you have a huge social circle, and people know you for your skills?
Then you can earn some money using your nature of communication and your social circle. Get connected with a human resource firm and help them hire potential employees for other organisations. You can easily make up to £22,000 a year with this Indeed work from home opportunity. And it will support you in managing your education as well.
Crowd Writer UK has also hired many of their experienced writers with the help of such firms.
8. Creative Copywriter
There are lots of opportunities for you if you are capable of writing and have a good grip on English. You can engage yourself with various firms where you can find writing jobs for social media posts, review writing, product descriptions, blog posts, web pages, etc. You can get hired by academic writing service and help other students similar to your field.
All you need are some research skills, perfection in grammar and sentence structure, satisfactory vocab, timely submissions, and you can earn a good amount.
9. Online Tutor Jobs
You can also look for online tutoring opportunities and be an online tutor. This is a great job that is directly related to education. It can help you revise your basics and can earn you a sufficient amount as well.
If you are good at studying in college, then you can also give paid tuition to your juniors and classmates. Make sure to have all the relevant books from online portals so that you can easily deliver them to your students.
10. Video Editor
There are a lot of opportunities in this growing tech era for the students who are able to leverage from their mobile phones and laptops. Search for suitable video editors on your mobile phones and offer your services. You can also find various part-time jobs on Indeed and other platforms regarding video editing.
Best Tips To Find Indeed Work From Home Jobs
So, you must have had a good idea till now about various Indeed work from home part-time jobs. In order to grab these opportunities in a go, follow the below tips.
Create an Indeed account so that you can easily apply for jobs.
Update your CV according to the particular sort of jobs you are looking for.
You can search for the job specifically on Google or visit the website of the company and send them your Resume directly as well.
Try to keep yourself updated. Have short courses on weekends from free platforms available on the internet.
With the help of these tips, you will be able to get a suitable part-time job to support your academics and manage your finances. Wishing you the very best of luck with your job hunt.