How To Get A Scholarship In A Reputed UK University
By Laura Brown on 8th July 2021
In current times many ambitious students often aim for the most reputed universities, but alas, the tuition fees can dishearten them. Instead, writing a pharmacy personal statement can be considered much easier than paying for those hefty tuition charges. However, if you know how to get a scholarship, then all of those troubles can simply vanish in thin air.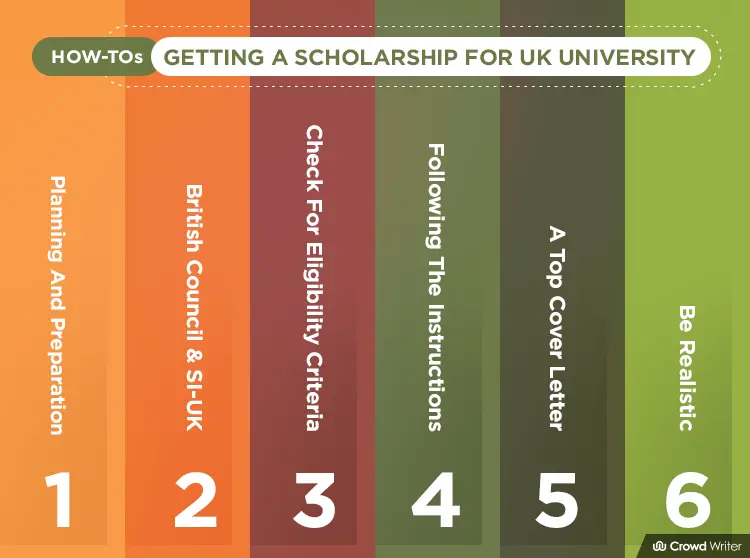 This is because postgraduate scholarships can help you cover the expenses and make your life during academic years much more bearable.
However, scholarships for international students are not a walk in the park. This is because if you don't know how to get a scholarship for a university, then there is hardly a chance for you to make it a reality for yourself. Hence your very first step towards greater success is to understand and learn about all the eligibility criteria that can help you achieve your academic goals. Without them, your effort will go wasted and have no one to blame.
Why Should I Know How To Get A Scholarship?
If you are asking yourself the question of how scholarships for international students are important, then let me remind you that winning one gets you more than a healthy bank balance. If you knew how to get a scholarship for a university, you would know that it offers an extensive support system.
This includes massive help for any freshman and the means that your institute provides to help you achieve the very best results that you can. Postgraduate scholarships can help you network with the right people as well.
According to a recent study by Top Universities, CastleSmart Scholarship offers £6,000 annually for an undergraduate student in the UK that is open to all nationalities. Furthermore, a £2,000 prize is available to a student currently enrolled in the UK from Surfshark Privacy and Security Scholarship.
Moreover, for Chinese students, the Great Britain China Center Chinese Student Awards offer up to £3,000, including those from Hong Kong. Lastly, there is also the University of West London International Ambassador Scholarships that offers 50 scholarships for international students.
How To Get Scholarship For A University: Simple Steps
If you think getting a scholarship can be an overhaul, then think again. This guide will offer you some easy steps that can help you achieve one in as simple a way as to how to start an introduction for an essay. So buckle up as we guide you to an easy process and methodology that you can adopt when applying for a scholarship in the UK.
Know Where To Look
Perhaps the first and foremost important thing that you should do is to know where you can get a scholarship. In the UK, there are various credible and authentic organisations that can make it easy for you to get a scholarship.
Prepare In Advance
Planning is key to success. If you are aiming to seek a scholarship in a reputed university in the UK, it is best for you to study and be well prepared beforehand.
The British Council
Probably the best place to start learning about how to get a scholarship is the British Council. It offers you various resources that are user-friendly and quickly get you accustomed to the eligibility criteria.
SI-UK
At Crowd Writer, students are always encouraged to socialise and get help from reliable sources. SI-UK has over 50 global offices and helps in supporting thousands of international students who are applying to study in the UK.
Eligibility Criteria
Speaking of the eligibility criteria, if you need to know how to get a scholarship, then you should visit the UK Council for International Student Affairs. Plus, many universities offer their own financial assistance that you can check on their websites.
Postgraduate Studentships
If you are a postgraduate student in the UK and want to learn how to get a scholarship, then visit the website of Postgraduate Studentships for additional information. They offer to fund 100 Masters and PhD programs.
Great Scholarships
Specifically for students from Asian countries like India, China, Thailand, Pakistan, Bangladesh, etc. If you are a citizen of the mentioned countries, the UK is where you can find out more scholarships.
Read The Instructions Carefully
It is extremely important that before you apply for any scholarship, you should go through the instructions comprehensively. Make sure that you have all the necessary documents and pertaining information ready at your disposal.
High Grades Are Crucial
I simply cannot stress enough on this point. This is why you have to stay motivated and give your best efforts at all times. Many universities award scholarships on the basis of academic accomplishments and thus increase your chances phenomenally.
Your Cover Letter Makes All The Difference
It goes without saying that you need to get approval from the authorities that have the power to approve your application. Make sure that submit an exceptional scholarship essay or cover letter to support your application.
Standout From Other Applicants
We advise every student at Crowd Writer UK to pursue academic excellence. However, scholarships can also be awarded on a financial need basis. I recommend that you create a strong case for yourself based on glowing academic qualities.
Stay Realistic
Lastly, I would just like to point out that there are many candidates who apply for scholarships each year. In some cases, their applications can present a strong argument in their favour. So don't be disheartened if you don't get awarded. Just keep trying and hope for the best.
Final Word
A scholarship is prestigious, so make sure that you don't spoil yourself or your reputation. Consider it as a holy responsibility where you must deliver the very best of your aptitude and academic skills. Rarely anyone gets a chance, so make sure that you respect the establishments and make them proud. In case you need help with an HND assignment UK our facilities are always available to you. Cheers and best of luck in all of your future endeavours!