14 Amazing Jobs For Students In The UK
By Laura Brown on 24th June 2022
While participating in extracurricular activities like sports, social events, clubs, etc., during your student life, you can also start earning a good amount and kickstart your career with jobs for students in the UK.
Moreover, according to Crowd Writer UK, about 80 per cent of the students in the UK have to opt for jobs in order to manage their daily and educational expenses. And among those, 21 per cent are engaged with two jobs
Although many shocking rules exist in school, no school, college or university limits you to have a part-time job. So, we have listed some jobs for you which can help you earn a good amount.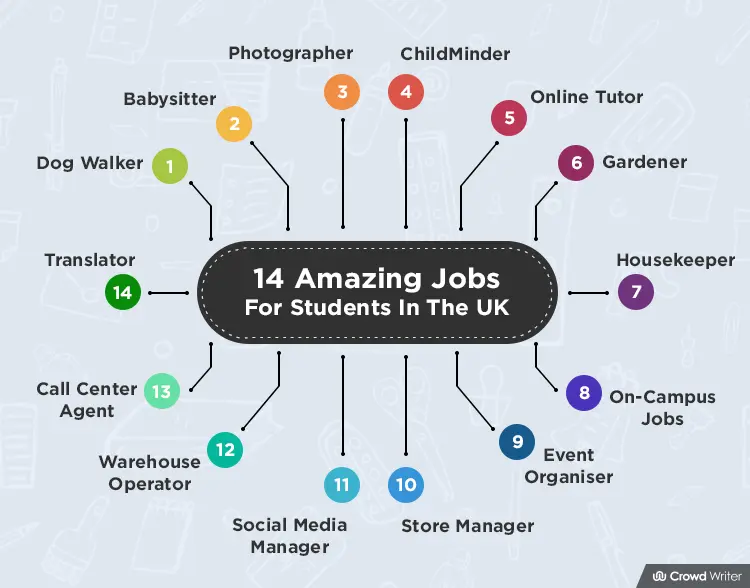 1. Dog Walker
If you are a dog lover and feel good hanging around with the pets, then this is really a job made for you. So many people in the UK hire different caretakers who can take care of their dogs, take them for a walk and feed them.
You can opt for this job as it is a part-time job and you can earn about £17 per hour on average.
2. Babysitter
There are so many single moms and single dads working in the UK. They need someone to care for their child. If you have some attachment towards kids and babies, you can go for this job.
The part-time opportunity can help you earn £12 – £14 per hour. This could be a good amount at the end of a weekend.
3. Photographer
Do you have great photography skills and love to click amazing photos of people around you and the beautiful nature?
Yes? Then what are you waiting for? Build a simple portfolio of your photos, and send them to a travelling agency. You can easily get one of the summer jobs for students in the UK that can be managed on the weekends. Most travel agencies operate on weekends, and you can earn about £10 – £20 an hour.
4. Social Media Manager
Nowadays, many organisations target their specific audience through social media platforms. In order to successfully manage their personalised ads campaigns, such organisations need social media managers who can help them operate the marketing campaigns.
If you have a similar skill set and are well aware of social media marketing, then this is your cup of tea.
5. Online Tutor
There are so many students in the UK asking for essay help. Other than that, many pupils look for suitable online tutors to help them out in their academics. Moreover, parents ask tutors to attend sessions with their kids online in order to make them more skilled.
You can offer your services in this field. It is a vast and fast-growing industry where you can easily earn a handsome amount if you are taking 2-3 tuition a week.
6. Gardener
There are so many jobs available for the students who feel good with plants and can make plants comfortable with them. If you are among those guys, then you have a good opportunity waiting for you.
Just give a round in your locality, and you will find a door with a board, 'Gardener Needed'. You can learn and enhance your gardening skills easily by watching videos on different platforms.
7. On-Campus Jobs
Many universities and colleges offer different positions which can be acquired by students as well. These opportunities revolve around admin, library work, cleaning and catering, event support, etc. These roles are offered occasionally, and you can easily earn up to £50 – £60 per day. These sorts of positions do have a fair amount of competition, so you need to be on time and hardworking to grab them.
8. Event Organiser
Among the best part-time jobs for students in the UK, event organisation is one of the most manageable jobs for university or college pupils.
All you need is to get yourself attached to a firm that organises events, and you can work with them on the weekends. They will offer you a good amount that can be very handy in managing your livelihood along with the educational expenses.
9. Store Manager
So many stores in the UK offer hourly jobs where you will need to look after the sales and the operations. You can easily find a suitable store in your locality where you can earn up to £12 per hour.
This is a very comfortable job, and you can do it with other part-time jobs as well. You are not restricted with the time.
10. Child Minder
If you have a suitable place to live in the UK, then you can offer childminding services in your local area. It is among the popular jobs in the UK that offers flexible hours. Depending upon the age of the child you are minding, you get mostly to work in the evenings and afternoons where you can easily manage your studies. Well, this job requires a good set of skills along with patience, interpersonal and organisational skills.
11. Warehouse Operator
As per the survey conducted by Crowd Writer, being a warehouse operator needs some skills that also reflect the skills necessary for students. It includes,
Timely operations
Being Responsible
Smart Management
Leadership Skills
Analysation
Problem Solving
If you have all these skills and can manage different products in a warehouse, then you should opt for this job which can help you earn a comparatively good amount.
12. Housekeeper
So, you love cleaning and managing a house? Why not earn with this. There are so many opportunities for housekeeping in the UK. All you need is to get some certifications in Hospitality and Catering, so that you can get hired professionally and earn a suitable amount.
13. Call Centre Agent
If you are a good communicator, can assist people well, manage data and time properly, then these skills can be used as a call centre agent to earn some money. You can get hired by any organisation offering such jobs as a remote worker.
You will need to grasp their products and understand the operations in order to quickly boost your skills and make the customers satisfied with your customer support.
14. Translator
Among the most suitable post-graduate jobs in the UK for international students is being a translator. However, it may take some time to find a suitable job as an international student, but you can find an opportunity where you will have to translate your native language to the UK or vice versa.
Best Resources For Part Time Jobs For Students In The UK
We hope that the above list will help you find a suitable job for your financial needs. If you are looking for Indeed work from home opportunities, you can refer to the below platforms where you can find some great opportunities.
Indeed
LinkedIn
Reed
SnapHunt
Monster
Jooble
Along with having a part-time job, focus on improving the skills that can lead you to a better career in the future.