All You Need To Know About Nursing Personal Statement
By Laura Brown on 17th May 2022
Having details about personal statements is as necessary as knowing how to ask for an extension on an assignment. Crowd Writer presents a complete guide to writing personal statements in the field of nursing.
What Is Nursing Personal Statement
A personal statement is required when a student is willing to get admission to a particular university or college. If you are willing to pursue the nursing field, then you will have to tell the college why you are capable or interested in studying this particular field.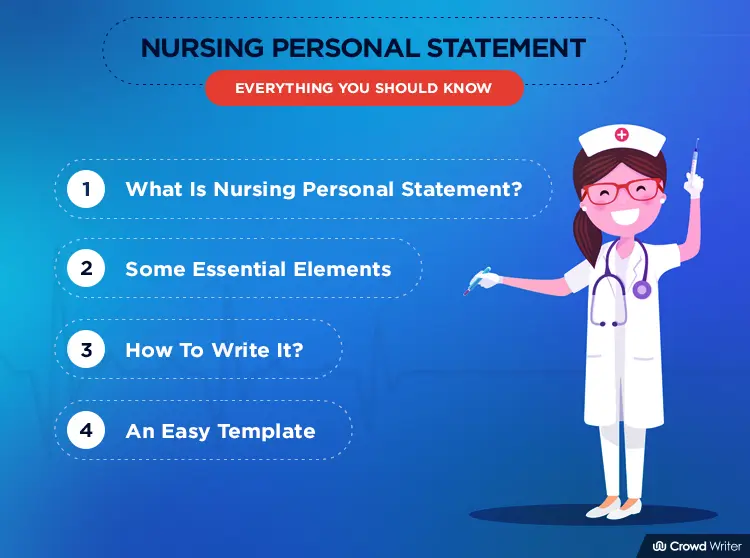 Elements You Should Include
Well, you must still be searching for how to write a nursing personal statement. Just like the pharmacy personal statement, there are some elements that should be included in your statement to make it worthy which can help you get admission to the desired university.
a. Education
Start the personal statement by defining yourself in one sentence, and then tell about your previous educational background. If you have conducted any particular research or carried out a thesis regarding nursing, then do mention it.
Write about your most recent qualifications first. If you have a similar background to the field you want admission in, it increases your chances of getting admission, and your personal statement is being noticed by the administration.
b. Experience
Relevant experience matters a lot when you are willing to get admission in the nursing field. This is a field that requires on-field work and so much responsibility.
If you have any past experience related to the nursing field, it is a plus point. For instance, if you have worked in blood group camps or have been providing first aid, you should write about it.
c. Volunteer Work
To highlight your character and your care for the world, you can mention some of the volunteer work that you have been doing for some time.
Since nursing is about taking care of others, mentioning volunteer work can be the best way to express your care for others. You can write about green campaigns, clean city drives, blood donation camps, etc.
d. Your Motivation
This is the most important factor in your personal statement. It defines why you are willing to grab an opportunity in the field of nursing. Illustrate that you are motivated towards the field, and you want to get admission with all your heart and soul. Define why you have a great interest in nursing and what are your aims and objectives with this field.
e. Relevant Skills
The one who is checking your personal statement will have a keen look at your skills and abilities. Skills, other than academics, have a great impact on your chances of getting admission to any college. If you think you are best at any of the following skills or all of them, tell them about it.
Communication
Conflict resolution
Attitude and confidence
Networking
Professionalism
Empathy
Teamwork
Critical thinking
Creative problem solving
f. Unique Traits
This should be really unique and can hardly be observed in other students. Write about what makes you unique and a different character. It can be your habit or any particular ability. For example, when I was writing my personal statement, I wrote about my experience and expertise in field hockey. That's what made me different, and I later had a long chat with the interviewer.
How To Write A Nursing Personal Statement
Writing a personal statement for the nursing field is not a difficult task, at least for a brilliant student like you. Well, still, if you think you will not be able to make it, Crowd Writer UK is with you.
It requires a bit of concentration and planning before writing a personal statement. Let's have a look at some steps or tips on how you can write a nursing personal statement.
1. Research Your Course
The first step should be to keenly research your course degree and collect information about it. It will help you deliver why you are relevant and the right person for the particular degree.
2. Check The Directions
The next step is to create a brief synopsis of what you are going to write. It will provide you with clear direction on which points to mention and things that are not necessary.
3. Emphasise On The Motivation
I might be repeating this point, but it's worth repeating. Tell them why you want to pursue a career in nursing. What motivates you to get admission in this field, and elaborate on your interest in the course.
4. Tell An Engaging Story
It is essential that when you are searching for how to write a personal statement for nursing, you should be good at telling stories. Make sure that all the points should be connected with each other in a way that makes up a story. There should not be a feeling that readers have a pause. It should be written in a personal tone that can grab the reader's attention.
5. Review Your Statement
After completing your writing, take out some time and review it properly. You can also ask for personal statement help in order to get it done perfectly.
Conclusion
Writing a personal statement in the field of nursing requires intensive research on the course and writing about different aspects of your career and character.
If you want to get admitted to any university in the field of nursing, the above guide can help you write a suitable personal statement and achieve what you are looking for.