How To Ask For An Extension On An Assignment
By Laura Brown on 13th August 2022
At least once in college life, every student has to suffer from late submission for the assignment. In such circumstances, students are unaware of how to ask for an extension on an assignment, and they end up deducting their marks. At that particular instant, you look for a cheap assignment and sometimes get it done successfully but fail to do so very often.
For this reason, Crowd Writer UK has come up with a complete guide that will help you while asking your tutor to extend your assignment deadline.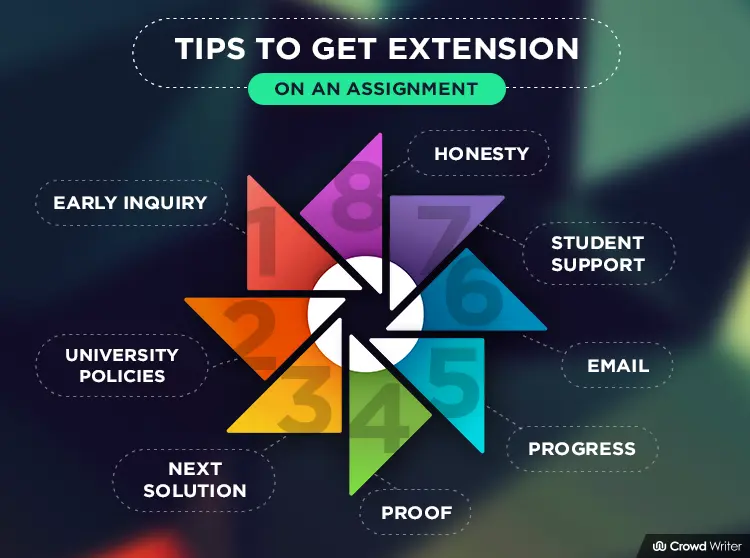 1. Ask As Early As Possible
When you have an assignment due, you know already if you can submit it on time or not. You are well aware of your upcoming schedule until or unless you encounter an emergency situation. So, if you know, you will not be able to make it to the deadline, go to your supervisor, tell them the situation, and ask for an extension as early as you can.
2. Meet The Tutor In-Person (If Possible)
While answering the question of how to ask for extension on assignment, experts often recommend meeting the tutor in person. However, we can understand that sometimes, it is not possible for students to approach the tutor. You can then email your tutor as a second option.
3. Go In The Office Hours
The main reason that you are unable to meet the tutor is looking for them other than the office hours. If you can have the schedule of the specific tutor from the management or online portal, then you can easily calculate some time when you can meet the tutor.
4. Show Your Care For The Grade
For instance, if you are doing an abstract, then you will definitely want to know how long should an abstract be. Similarly, asking for an extension requires that you should reflect intensive care towards your grades. Although your tutor knows it, still tell them how it could affect your grades if your tutor does not extend the submission.
5. Explain The Solution
At Crowd Writer, we value our employees' problems. Similarly, if you are able to elaborate on your situation to the tutor, then there is a good chance that they will provide you with what you want.
6. Suggest A Timeframe
In order to follow complete steps on how to ask for an extension on an assignment, the next point should be to suggest the next deadline yourself. However, make sure that it should be a practical deadline. Do not ask for an extension for more than 2 to 3 days.
7. Come Up With Some Evidence
It is very necessary that your excuse of being late in submission or for an extension should be backed by some strong evidence. You should have a proper reason for the extension. Just because you were busy, your tutor would not accept your offer. Tell them where you were stuck and provide some evidence for it.
8. Update Your Progress
The most important thing about how to ask for an extension on an assignment is to tell your tutor, how much assignment you have done already or if you have conducted the research, tell them about it.
9. Send A Well Crafted Professional Email
If you are unable to meet your tutor in persona, you should send them the email immediately. Do not waste a lot of time looking for your tutor on campus. Send them a well-crafted email that looks professional and carries all the essential information as discussed above.
10. Concern With Student Council
So you are up to the question, of how to ask for extension on an assignment, then you should take help from your seniors or student council. If they have good terms with the tutor, then it would be really easy for you to get the extension.
11. Do Not Ask Again & Again
Well, if your tutor has not responded to your email or declined your offer, you should not bother them by asking again and again for the tutor. It can make your situation even worse.
12. Be Honest With Your Context
Honesty is really the best policy. Your tutor knows you very well. Be honest with your tutor. Somehow, if you are late due to your own mistake, tell to your tutor, have an apology. If you are suffering from student mental health issues, tell them exactly what you are going through.
Summarizing On How To Ask For An Extension On An Assignment
Asking your tutor for an extension on any particular assignment is not that easy. You may face several challenges while looking for an extension. You might not be able to meet your tutor or contact them. The best solution is to email them and tell them about the situation. Well, if you can follow the above-mentioned steps, getting an extension will be really a smooth process for you.