How To Write An Essay Plan For Achieving Good Grades
By Laura Brown on 18th December 2020
Achieving good grades is every student's dream. In an academic career, undergraduates may come across multiple essay assignments that play a vital role in final grades. Students often start writing essays; then they run out of ideas in the middle of context. This makes them feel anxious and worried.
The best way to avoid this kind of mid-writing disaster is to plan on how to write an essay. Essay writing plan is more art than a skill. It helps you to set clear goals with your outcome.
How To Do An Essay Plan In 7 Steps?
Fortunately, an essay plan is not as boring as you think. Actually, it may just take a short span of time but can make you relieved more than you can imagine.
Below we are going to share a 7-step guide on how to write an essay plan that most experts at Crowd Writer follows to craft every kind of essay from high school to PhD.
Let's roll it!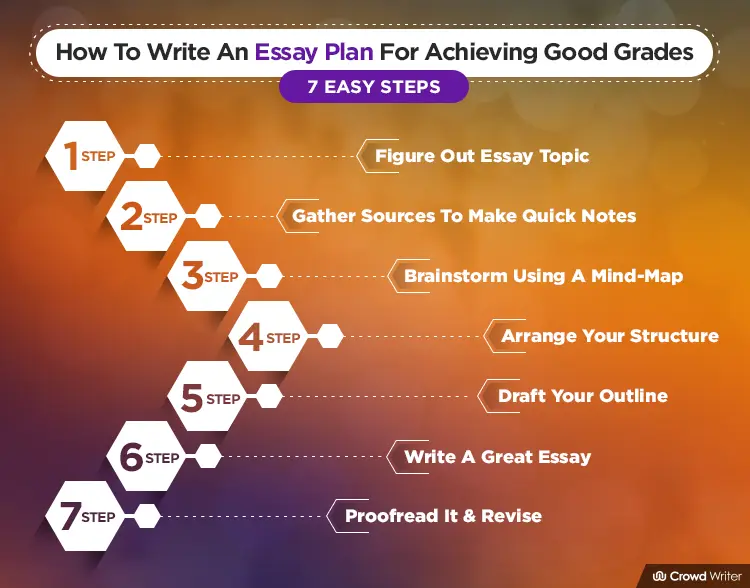 1. Figure Out An Essay Topic
Your teacher can provide an essay topic, or you may make a choice as well, depending upon your academic criteria. The most important thing here is to find an essay question that you will answer in your writing. Its first step for how to do an essay plan. Many students end up writing essays that are irrelevant to the topic sentence given or chosen.
Thus, it is recommended to read the details carefully which are provided by your instructor. It will be your cheat sheet and helps you by giving direction on what you want to write about. This step is going to take not more than 5 minutes; however, it will help you to clarify your focus for preliminary research.
2. Gather Sources To Make Quick Notes
After that, you have got the perfect perspective of the topic sentence; now you can start finding some reliable data to discuss. It is not the best idea to just write things from the top of your mind. You may need some detailed, in-depth information specific to the topic if you want to achieve good grades.
Fortunately, your tutor has already made it easy for you by providing lecture presentations and reading material. These are the top sources to get the desired information because your teacher has had-picked them. Thus, they will serve as the best source.
It is not different than learning How to Write an Abstract for a Dissertation. If you are empty-handed with the above treasure, you may get some good citations on Google Scholar. You can find thousands of academic papers relevant to your topic there. Bonus; all are reliable and well-researched.
3. Brainstorm Using A Mind-Map
A mind map can help you to find key important ideas around your topic sentence. Find as many related ideas as you can then choose the most prominent ones. Look back to your notes and finalise your set of ideas to back up your argumentative statement.
An ideal key idea must be elaborated in around 200-300 words while a 500-word content must have at least two main theories to discuss.
Below is a rough guide to help you with the number of sentences ideas depending upon word count:
1000-word count: 2 to 4 key ideas
1500-word count: 4 to 6 key ideas
2000-word count: 6 to 8 key ideas
3000-word count: 7 to 10 key ideas
Furthermore, to add depth and detail to each idea on how to write an essay plan, you must include:
Two sources for citation
An example or statistic to back up each idea
Available additional interesting facts
4. Arrange Your Structure
The most authentic information fails to convince readers if it is not presented in a visual manner. An essay structure is critical when it comes to getting good grades. However, most people are not aware of how to write an essay plan. Ideally, an essay structure consists of 4 sections:
Introduction
Discussion Context
Conclusion
Discussion context needs maximum focus in terms of structuring an essay. Be careful while placing sections and make sure you know which thing needs to be discussed before or after which point. Once you have completed the perfect selection, you have almost done with planning.
5. Draft Your Outline
Step 4 has already made drafting an outline easy. You may just need to allot word count to each section here. Also, make sure to credit every source and citation in your bibliography section, especially in a compare and contrast essay. This will save you from a lot of hassle ad killing time on just one area.
6. Write A No-Pressure Essay
Congratulations, now you can start writing by getting one step ahead to your masterpiece. Writing cannot be done in one go; so sit back and relax. You don't have to take the pressure of being perfect, just be a writer for a while. Forget about the errors and mistakes; they will be corrected in the next step by the way. We recommend you to express your ideas freely on the paper first.
7. Edit & Proofread
Have you ever seen how a piece of wooden furniture is hand-made? If not then, please go and observe how the carpenter enjoys giving a final finishing touch to his hand made piece of beauty. Editing ad proofreading for an essay is just like that. It's your piece of art, and you are the artist.
Before you have written your essay without any fear, now you have to edit it without any mercy. Go to each word and check it for spelling, punctuation and grammar. If possible, then have a neutral pair of the eye who knows how to write an essay plan to see your work with a fresh mind and point out your mistakes. Make sure you have mentioned every source correctly. Lastly, check for plagiarism and then your work is ready for submission.
Conclusion
If you are still fighting with your academics, don't worry as Crowd Writer UK is always there to help you with best essay writing service across the globe. We are just a click away. Order now!